Theatre & Dance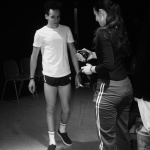 Our theatre and dance projects aim at fostering contacts between British and Romanian artists, supporting co-productions, setting up artistic residencies and producing original shows.
Done in partnership with British or Romanian institutions, our theatrical and dance productions often take place at important festivals or key venues. The promotion of Romanian theatre and dance means also working closely with Barbican Centre, Edinburgh International Festival, Southbank Centre and Siobhan Davies Studios, Theatre Royal Stratford East among others.
Events archive

We are pleased to announce the UK premiere of "I Killed My Mother" by Romanian-Hungarian Andras Visky, one of the most original voices of the contemporary European theatre, at The Rosemary Branch Theatre. "I Killed My Mother" is the story of Bernadett, a modern day Jane Eyre living in Ceausescu's Romania, an...
05 - 10/03/2013 @ The Rosemary Branch Theatre, 2 Shepperton Road, London N1 3DT