Theatre & Dance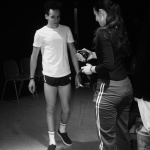 Our theatre and dance projects aim at fostering contacts between British and Romanian artists, supporting co-productions, setting up artistic residencies and producing original shows.
Done in partnership with British or Romanian institutions, our theatrical and dance productions often take place at important festivals or key venues. The promotion of Romanian theatre and dance means also working closely with Barbican Centre, Edinburgh International Festival, Southbank Centre and Siobhan Davies Studios, Theatre Royal Stratford East among others.

Following a sold-out performance in Belgravia in 2017, accomplished Romanian actress Edith Alibec brings her award-winning one-woman show, 'Why the Child is Cooking in the Polenta', to London's Gate Theatre in Notting Hill. Directed by Dana Paraschiv and inspired by the autobiographical novel of Swiss-Romanian Aglaja...
01 - 04/05/2019 @ Gate Theatre, 11 Pembridge Road, Notting Hill Gate, London W11 3HQ
Events archive

An alert, suspenseful crossover between theatre and film, the Romanian version of '39 Steps', Hitchcock's espionage thriller and one of West End's most enduring successes, will be presented at the Edinburgh Fringe by the famed Teatrul Foarte Mic of Bucharest as part of the Romanian artistic contingent showcasing in...
06 - 17/08/2015 @ New Town Theatre (Venue 7), Freemasons' Hall, Edinburgh EH2 3DH

We are proud to support Pericles Theatre Company and Atelier Community Theatre's irresistible staging of the beloved 'The Tale of the Pig', the quintessential fable of Romanian childhood. The show, based on two famous versions of the story written by legendary storytellers Ion Creangă and Petre Ispirescu, follows the...
27 - 30/05/2015 @ The Warren: Main House, St Peter's Church North, York Place, Brighton, BN1 4GU