Theatre & Dance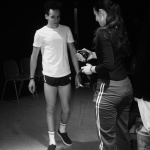 Our theatre and dance projects aim at fostering contacts between British and Romanian artists, supporting co-productions, setting up artistic residencies and producing original shows.
Done in partnership with British or Romanian institutions, our theatrical and dance productions often take place at important festivals or key venues. The promotion of Romanian theatre and dance means also working closely with Barbican Centre, Edinburgh International Festival, Southbank Centre and Siobhan Davies Studios, Theatre Royal Stratford East among others.
Events archive

We are proud to support Pericles Theatre Company and Atelier Community Theatre's irresistible staging of the beloved 'The Tale of the Pig', the quintessential fable of Romanian childhood. The show, based on two famous versions of the story written by legendary storytellers Ion Creangă and Petre Ispirescu, follows the...
27 - 30/05/2015 @ The Warren: Main House, St Peter's Church North, York Place, Brighton, BN1 4GU