Theatre & Dance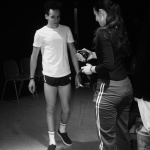 Our theatre and dance projects aim at fostering contacts between British and Romanian artists, supporting co-productions, setting up artistic residencies and producing original shows.
Done in partnership with British or Romanian institutions, our theatrical and dance productions often take place at important festivals or key venues. The promotion of Romanian theatre and dance means also working closely with Barbican Centre, Edinburgh International Festival, Southbank Centre and Siobhan Davies Studios, Theatre Royal Stratford East among others.
Events archive

It's 2053. All of the artworks in Tate Liverpool's 'Imagined Museum' have vanished and are replaced by a 'living museum', that is, an army of people assembled to preserve the memory of the objects that were once on display. This is the extraordinary conclusion of the special...
20 - 21/02/2016 @ Tate Liverpool Museum, Albert Dock, Liverpool Waterfront, L3 4BB

Join us for a séance of interactive, immersive performance born under the umbrella of the Theatre of Testimonies - a new theatrical form that relies on raw and unmediated depositions. The cutting-edge artistic practice, set up by the creative duo Anca Doczi and Cristian Luchian, reflects on matters of...
06/02/2016 @ Horniman Museum and Gardens, 100 London Road, Forest Hill, London SE23 3PQ

One of our theatrical presences on the Edinburgh Festival scene this summer is the Romanian-Irish dramatic exploration of the often traumatic impact immigration has on one's identity and memory. The show, entitled 'Ashes Afar: Go Home', tackles the vagaries of displacement in a comedic key. The play is produced by the VANNER...
07 - 29/08/2015 @ Greenside @ Infirmary Street (Venue 236), 6 Infirmary Street, Edinburgh EH1 1LT

An alert, suspenseful crossover between theatre and film, the Romanian version of '39 Steps', Hitchcock's espionage thriller and one of West End's most enduring successes, will be presented at the Edinburgh Fringe by the famed Teatrul Foarte Mic of Bucharest as part of the Romanian artistic contingent showcasing in...
06 - 17/08/2015 @ New Town Theatre (Venue 7), Freemasons' Hall, Edinburgh EH2 3DH