Theatre & Dance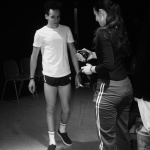 Our theatre and dance projects aim at fostering contacts between British and Romanian artists, supporting co-productions, setting up artistic residencies and producing original shows.
Done in partnership with British or Romanian institutions, our theatrical and dance productions often take place at important festivals or key venues. The promotion of Romanian theatre and dance means also working closely with Barbican Centre, Edinburgh International Festival, Southbank Centre and Siobhan Davies Studios, Theatre Royal Stratford East among others.
Events archive

Gigi Căciuleanu, Romania's foremost choreographer, captures the seductive energy of DADA, the artistic revolution ignited by the Romanian Tristan Tzara at the beginning of the century, in a show full of disruptive anarchy, irresistible humour and uncomfortable equivoques. Starring Gigi Căciuleanu himself and Lari...
26/09/2016 @ Sadler's Wells Theatre - Lilian Baylis Studio, Rosebery Avenue, London, EC1R 4TN

The Romanian Cultural Institute and the International Youth Arts Festival Kingston proudly present the British premiere of 'Whispers: an Armenian Tale' ('Staipelochian'), an eye-opening production of Rampa Theatre Company in Bucharest. Based on Nobel nominee Varujan Vosganian's novel 'The Book of Whispers', the...
15 - 17/07/2016 @ Arthur Cotterell Theatre, Kingston College, Kingston Hall Road, KT1 2AQ Kingston upon Thames, London

Dance Roads is a EU-funded initiative bringing together choreographers from Wales, France, the Netherlands, Italy, and Romania. Showcasing a variety of dance paradigms, the five short performances - 'Qui, Ora' by Claudia Catarzi (Italy), 'Lay(ers)' by Cristina Lilienfeld (Romania), 'Of the Earth, from where I Came' by...
07 - 08/06/2016 @ Chapter, Market Road, Canton, Cardiff, Wales, UK, CF5 1QE