Theatre & Dance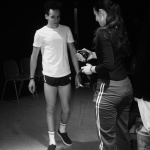 Our theatre and dance projects aim at fostering contacts between British and Romanian artists, supporting co-productions, setting up artistic residencies and producing original shows.
Done in partnership with British or Romanian institutions, our theatrical and dance productions often take place at important festivals or key venues. The promotion of Romanian theatre and dance means also working closely with Barbican Centre, Edinburgh International Festival, Southbank Centre and Siobhan Davies Studios, Theatre Royal Stratford East among others.
Events archive

Play the Spotlight Theatre and the Romanian Cultural Institute present the London premiere of William Luce's hypnotic monodrama 'Zelda – The Last Flapper' with a towering performance by Ioana Pavelescu, the beloved star of Romanian theatre&film and the 2013 recipient of the Best Actress award at the New York City...
12/11/2016 @ The Cockpit, Gateforth Street, Marylebone, London NW8 8EH, T: 020 7258 2925

Gigi Căciuleanu, Romania's foremost choreographer, captures the seductive energy of DADA, the artistic revolution ignited by the Romanian Tristan Tzara at the beginning of the century, in a show full of disruptive anarchy, irresistible humour and uncomfortable equivoques. Starring Gigi Căciuleanu himself and Lari...
26/09/2016 @ Sadler's Wells Theatre - Lilian Baylis Studio, Rosebery Avenue, London, EC1R 4TN