Theatre & Dance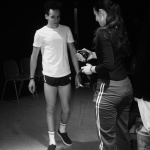 Our theatre and dance projects aim at fostering contacts between British and Romanian artists, supporting co-productions, setting up artistic residencies and producing original shows.
Done in partnership with British or Romanian institutions, our theatrical and dance productions often take place at important festivals or key venues. The promotion of Romanian theatre and dance means also working closely with Barbican Centre, Edinburgh International Festival, Southbank Centre and Siobhan Davies Studios, Theatre Royal Stratford East among others.
Events archive

After a successful and extended London run at the Arcola Theatre, Alexandra Badea's "The Pulverised" moves to York Theatre Royal, showing from 31 May to 10 June. In a 4 stars review, the Evening Standard described the performance as "compelling and chilling", Mind the Blog as "a hard-hitting 90 minutes of theatre...
31/05 - 10/06/2017 @ York Theatre Royal - The Studio, St Leonard's Place, York YO1 7HD

The Romanian Cultural Institute and the Romanian Embassy warmly invite you to celebrate The International Children's Day with an all time classic, Ion Creangă's 'Capra cu trei iezi' ('The Goat and Her Three Kids'), a spectacular puppet show by The 'Luceafarul' Theatre in Iaşi. Children and adults alike,...
20 - 21/05/2017 @ Romanian Cultural Institute, 1 Belgrave Square & Wembley Library, Brent Civic Centre

Play the Spotlight Theatre and the Romanian Cultural Institute present the London premiere of William Luce's hypnotic monodrama 'Zelda – The Last Flapper' with a towering performance by Ioana Pavelescu, the beloved star of Romanian theatre&film and the 2013 recipient of the Best Actress award at the New York City...
12/11/2016 @ The Cockpit, Gateforth Street, Marylebone, London NW8 8EH, T: 020 7258 2925