Theatre & Dance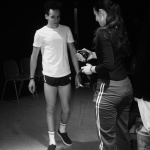 Our theatre and dance projects aim at fostering contacts between British and Romanian artists, supporting co-productions, setting up artistic residencies and producing original shows.
Done in partnership with British or Romanian institutions, our theatrical and dance productions often take place at important festivals or key venues. The promotion of Romanian theatre and dance means also working closely with Barbican Centre, Edinburgh International Festival, Southbank Centre and Siobhan Davies Studios, Theatre Royal Stratford East among others.
Events archive

The Romanian Cultural Institute is proud to support the world premiere of 'The Unburied. The Saint of Darkness'(2016), an unexpected take on Antigone's myth by award-winning playwright and poet András Visky, one of Romania's most notable theatre personalities. The play, skilfully transposed into English by...
20 - 25/11/2017 @ [Foreign Affairs], The Mill Co. Rose Lipman Building, 43 De Beauvoir Road, London, N1 5SQ

After a successful and extended London run at the Arcola Theatre, Alexandra Badea's "The Pulverised" moves to York Theatre Royal, showing from 31 May to 10 June. In a 4 stars review, the Evening Standard described the performance as "compelling and chilling", Mind the Blog as "a hard-hitting 90 minutes of theatre...
31/05 - 10/06/2017 @ York Theatre Royal - The Studio, St Leonard's Place, York YO1 7HD