Theatre & Dance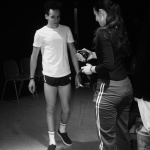 Our theatre and dance projects aim at fostering contacts between British and Romanian artists, supporting co-productions, setting up artistic residencies and producing original shows.
Done in partnership with British or Romanian institutions, our theatrical and dance productions often take place at important festivals or key venues. The promotion of Romanian theatre and dance means also working closely with Barbican Centre, Edinburgh International Festival, Southbank Centre and Siobhan Davies Studios, Theatre Royal Stratford East among others.
Events archive

Following a sold-out performance in Belgravia in 2017, accomplished Romanian actress Edith Alibec brings her award-winning one-woman show, 'Why the Child is Cooking in the Polenta', to London's Gate Theatre in Notting Hill. Directed by Dana Paraschiv and inspired by the autobiographical novel of Swiss-Romanian Aglaja...
01 - 04/05/2019 @ Gate Theatre, 11 Pembridge Road, Notting Hill Gate, London W11 3HQ