Theatre & Dance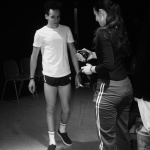 Our theatre and dance projects aim at fostering contacts between British and Romanian artists, supporting co-productions, setting up artistic residencies and producing original shows.
Done in partnership with British or Romanian institutions, our theatrical and dance productions often take place at important festivals or key venues. The promotion of Romanian theatre and dance means also working closely with Barbican Centre, Edinburgh International Festival, Southbank Centre and Siobhan Davies Studios, Theatre Royal Stratford East among others.
A fresh, imaginative take on Marin Sorescu's revisionist examination of one of Middle Age's most enigmatic heroes,'Vlad the Impaler', staged by intrepid theatre veterans Faynia Williams and Richard Crane, opens in Glasgow at the famous A Play, A Pie and A Pint on 27 April before a stint in the Brighton Fringe Festival...
27/04 - 10/05/2015 @ A Play, A Pie and a Pint in Glasgow and Rialto Theatre in Brighton
Events archive