Teatru&Dans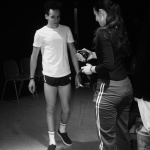 Proiectele noastre de promovare a artelor spectacolului înseamnă, de regulă, organizarea de turnee, stimularea contactelor între artiştii români şi cei britanici, susţinerea coproducţiilor.
Acestea, la care se adaugă plasarea în rezidenţe de creaţie, facilitarea unor vizite de documentare în România şi organizarea de spectacole-lectură, sunt realizate aproape întotdeauna împreună cu parteneri britanici şi au loc, de cele mai multe ori, în cadrul unor mari festivaluri de gen. În plus, colaborăm cu organizaţii de primă importanţă, precum Barbican Centre, Festivalul Internaţional de Teatru de la Edinburgh, Southbank Centre şi Studiourile "Siobhan Davies".
Arhiva evenimente

Following a sold-out performance in Belgravia in 2017, accomplished Romanian actress Edith Alibec brings her award-winning one-woman show, 'Why the Child is Cooking in the Polenta', to London's Gate Theatre in Notting Hill. Directed by Dana Paraschiv and inspired by the autobiographical novel of Swiss-Romanian Aglaja...
01 - 04/05/2019 @ Gate Theatre, 11 Pembridge Road, Notting Hill Gate, London W11 3HQ