Literature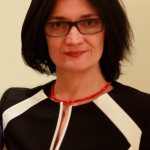 The events pass, the books are here to stay. For RCI London, the promotion of Romanian literature is a perennial priority. Most of our editorial projects are carried out with the support of the Romanian Cultural Institute's National Book Centre in Bucharest. The goal is to publish the best in Romanian literature and with the best publishing houses.
At the same time, we work to increase the circulation of Romanian names among the British reading public through Romanian events at major British literary festivals, book fairs such as the London International Book Fair. We organize readings, talks, book launches and publish extracts in literary magazines. Major partners include the Royal Society of Literature, British Library, Poet in the City, Waterstones Piccadilly and the European Bookshop in London.
Events archive
The archaic world is a world soaked in poetry and, perhaps, it is poetry itself. Like many other poets before them, Ioana Ieronim and Fiona Sampson have marveled at the simple, barely noticeable wonders of rustic life, where they have found a bounty of poetic inspiration. The two poets will examine the notion of tradition, punctuating their...
04 - 05/10/2014 @ Horniman Museum and Gardens, 100 London Road, Forest Hill, London, SE23 3PQ

Alex Drace-Francis and Ruxandra Trandafoiu, the authors of the newest Western incursions into our national soul – "The Traditions of Invention. Romanian Social and Ethnic Stereotypes in Historical Context" (Brill Publishers, 2013) and, respectively, "Diaspora Online. Identity Politics and Romanian Migrants"...
21/10/2013 @ Romanian Cultural Institute, 1 Belgrave Square, SW1X 8PH