Literature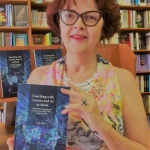 The events pass, the books are here to stay. For RCI London, the promotion of Romanian literature is a perennial priority. Most of our editorial projects are carried out with the support of the Romanian Cultural Institute's National Book Centre in Bucharest. The goal is to publish the best in Romanian literature and with the best publishing houses.
At the same time, we work to increase the circulation of Romanian names among the British reading public through Romanian events at major British literary festivals, book fairs such as the London International Book Fair. We organize readings, talks, book launches and publish extracts in literary magazines. Major partners include the Royal Society of Literature, British Library, Poet in the City, Waterstones Piccadilly and the European Bookshop in London.
Events archive

Visionary translator and editor George Volceanov, the driving force behind Romania's most ambitious Shakespeare translation project in decades, joins an international creative ensemble gathered in Norwich to mark 400 years since The Bard's death. On 8 December, at the Writers' Centre Norwich, George Volceanov together with...
08 - 11/12/2016 @ Writers' Centre Norwich & University of East Anglia

Following her participation at the 2014 edition of the London Book Fair, acclaimed cultural historian and novelist Ioana Pârvulescu meets her British readers in two special events celebrating the English publication of her 2013 EU Literature Prize winning novel 'Life Begins on Friday' by Istros Books. On the evening of 23...
23 - 24/06/2016 @ Romanian Cultural Institute, 1 Belgrave Square, London SW1X 8PH; British Library, 96 Euston Rd, London NW1 2DB