About the ROLYMPICS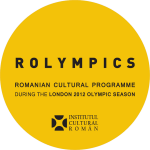 The ROlympics, our cultural programme during the Olympic season, is the gift Romania is making to the people of London. Curated and produced by the Romanian Cultural Institute (ICR) and set up in collaboration with numerous Romanian and British partners, it consists of 17 projects in film, theatre, visual arts, and literature that are inspired by the richness of London's identity and that aspire to create a lasting legacy.

The ROlympics Programme showcases some of the most recognisable names in Romania's contemporary arts as well as cultural figures and sports personalities. The events unfold mostly in East London and especially in the Olympic Borough of Tower Hamlets and last from April to October 2012.

We are grateful to all our partners for their ongoing confidence and support.