Youthful Pianistic Verve at St Martin-in-the-Fields
19/07/2019 @ St Martin-in-the-Fields, Trafalgar Square, London WC2N 4JJ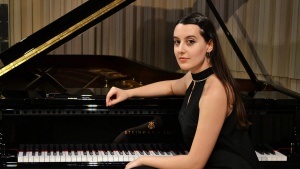 Our long partnership with St. Martin-in-the-Fields, the buzzing classical music stage of Trafalgar Square, continues this summer with a delightful recital by London-based pianist Leona Crasi. The up-and-coming Romanian musician will perform a programme that combines both contemporary works and crown jewels of the Romantic piano repertoire.
Programme:
György Ligeti – Musica Ricercata
Diana Rotaru – Debumessquise
Franz Liszt – Dante Sonata
Currently a student at the prestigious Royal Academy of Music, Leona Crasi started her piano lessons in Romania, to later attend the Alabama School of Fine Arts before moving to London. She is a versatile musician, performing chamber as well as contemporary music, both solo and part of collaborative multimedia projects. She also holds a teaching position at the Halcyon International School and a pianist position at the Royal Academy of Dance. Among the many competitions she took part in, the most recent successes are the 3rd prize in the HRH Lalla Meryem International Piano Competition in Morocco and the 1st prize in the XIII Hungarian Music Competition in Bucharest. An avid performer of 20th and 21st century music, she took part in the 2018 Lucerne Piano Festival and in the 2019 Leeds Lieder Festival. Past projects include recordings for Naxos and premieres in various venues in London, at the Hungarian Cultural Institute in Vienna and Bucharest and at the Aegean Arts Festival in Crete. Leona is currently in her 4th year at the Royal Academy of Music. Her studies are kindly supported by the ISTS Halliburton Company in the United States, and Talent Unlimited Music Charity.
When: Friday 19 Iuly 2019, 1pm
Where: St Martin-in-the-Fields, Trafalgar Square, London
This lunchtime concert is free and no ticket is required.