Youthful Panache Energizes our Stage as the Spring Erupts in Belgravia
06/03/2014 @ ICR London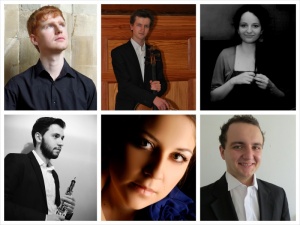 As a musical reverence to a delayed London spring, the March concert of our Enescu Series becomes a showcase of daring, youthful vitality. Like every year, the best Romanian students at the grand musical schools of London are called to match the ebullience of nature in spring with their exuberance and vigour. Luminous Mozart, Schubert and Enescu pieces will form the evening's programme.

Ioana Forna - violin
Florian Sattler - cello
Francis Gallagher - viola
Andrei Mihăilescu - double bass
Mina Beldimănescu - piano
Raymond Cinpoeșu - oboe
Programme:
W.A. Mozart - 'Oboe Quartet in F Major K370 Allegro', 'Adagio', 'Rondeau'
George Enescu - 'Piano Quartet no. 1 in D Major', 'Allegro moderato', 'Andante mesto', 'Vivace'
Robert Schumann - 'Adagio and Allegro in A-flat major, op. 70'
Franz Schubert - 'Trout Quintet'
Ioana Forna is in the fourth year of her BMus at the Royal College of Music, studying violin with Berent Korfker. She started playing at the age of seven and studied at the 'Sigismund Toduţă' Music High School in Cluj, Romania, taking part in the annual National Arts competitions and being always a laureate. Joining the Romanian National Youth Orchestra, under the guidance of Cristian Mandeal and Marin Cazacu, she performed in several important venues. Ioana is currently the 1stViolin of the Sattler Quartet.
Born in Bucharest, Romania, in 1990, Mina Beldimănescu is currently completing her postgraduate studies at the Guildhall School of Music & Drama with Philip Jenkins. She won numerous prizes in international competitions, among which the ones in Ciudad de San Sebastian, Spain, Val Tidone, Italy, and Konzerteum, Greece. Her performances as a piano soloist include the ones at George Enescu Museum in Bucharest and Middle Temple Hall in London. Mina regularly performs as a chamber musician in Massachusetts, Costa Brava and Barcelona.
Twenty-three year old Andrei Mihăilescu is a student at the Royal Academy of Music, having earned a 'Leverhulme Mentor' scholarship. A very passionate chamber and orchestral musician, he previously studied with Ion Cheptea in Bucharest and now has Duncan McTier and Graham Mitchell as professors. Andrei won the 'Robert Lefever' award for his outstanding double bass performance during the London Symphony Orchestra String Experience 2012-2013. The musicians he has worked with include Bernard Haitink, Horia Andreescu and Pinchas Zuckerman.
Raymond Cinpoeşu was born in 1992, in Bacău, Romania. He participated at the Eurovision Young Musicians Competition, reaching the national final round at the Romanian Athenaeum and performing with the National Youth Orchestra. Raymond studied the oboe with Celia Nicklin at the Royal Academy of Music in London and in his first year received the Leila Bull Oboe Prize. He is currently studying with Jacques Tys at Conservatoire National Superieur de Musique et de Danse in Paris.
First Prize winner of the Royal College of Music Viola Competition in 2013, Francis Gallagher has performed concertos with orchestras on both the viola and the violin, including the Telemann 'Viola Concerto' with the Barnet Youth Orchestra in 2010. A keen chamber and orchestral musician, Francis has also performed with both the Royal College of Music Philharmonic and Symphony Orchestras. He is a founding member of the Sattler String Quartet and currently studying at the Royal College of Music with Yuri Zhislin.
Florian Sattler started studying the cello at the age of nine at the Music School of Sélestat, his hometown. At the age of fifteen, he began studying at Conservatoire de Colmar with Olivier Roth, principal cellist of the Strasbourg Philharmonic Orchestra. After graduating with distinctions, he started taking lessons with Helene Dautry in Paris and in 2010 he was awarded a place at the Royal College of Music. He is currently in the 4th year of his Undergraduate Degree and is also the cellist of the Sattler Quartet.
When: Thursday, 6 March, 7pm
Where: Romanian Cultural Institute, 1 Belgrave Square, SW1X 8PH
Admission is free, but places are limited. Please confirm your attendance at T: 020 7752 0134, E: office@icr-london.co.uk
Seats are allocated on a first come, first served basis.