The Enescu Series Hails the Springtime with Youthful Ardour
07/03/2013 @ Institutul Cultural Român, 1 Belgrave Square, Londra, SW1X8PH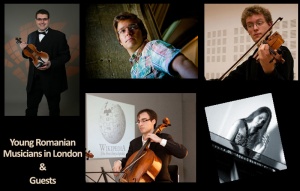 The fresh and blooming March is matched by the playfulness and excitement of some of the most talented young musicians in London. Graced by talent and infused by indomitable energy, the ensemble comprising Radu Ropotan – violin, Francesco Ionaşcu – violin, George White – viola, Raphael Lang – cello, Alexandra Văduva – piano will offer an exuberant reading of the famous Enescu and Dvořák quintets.
Programme:
Enescu: Piano Quintet, Op. 29
Dvořák: Piano Quintet, Op. 81
A finalist of the prestigious "Eurovision Young Musicians" International Competition in 2006, violinist Francesco Ionaşcu was born in Venice in 1991 and raised in Romania. At the age of 6 he started taking violin lessons, and since then he has given more than 60 concerts as a soloist in Germany, Italy, France or Romania. Francesco is a winner of various international violin competitions, including the 1st Prize as well as the "Ion Voicu" Prize at the 2003 "Remember Enescu" contest. He also won the 2nd Prize in the "Jeunesses Musicales" International Competition in 2005, being the only Romanian to be awarded a prize.
First-prize winner in 2011 of the prestigious Vienna International Piano Competition, pianist Alexandra Văduva is a student of Diana Ketler at the Royal Academy of Music. Born in 1991, Alexandra started her musical education in Romania with Doina Olteteanu and has since won various awards including at the "Beethoven" and "Eastbourne Young Soloist" Competitions, both held in the UK. Recently, she performed for important pianists and teachers, such as Stephen Hough, Pascal Devoyon, Jerome Rose, John O'Conor and Joanna MacGregor. Alexandra has recently performed Stravinsky's Piano Concerto with the Royal Academy of Music Wind Orchestra conducted by Keith Bragg and she will focus once more her attention on the Russian composer during the orchestral performance of the "Petrushka" ballet suite conducted by Thierry Fischer.
A winner of more than sixteen national and international prizes including first prize at the "Remember Enescu" international violin competition (Sinaia, Romania, 2007) as well as the special prize at the 2005 "Andrea Postacchini" international competition in Fermo, Italy, Radu Ropotan has started playing the violin at the age of six, in his hometown Galati, Romania. Radu Ropotan has a very active musical life engaging in orchestral projects, chamber music and solo concerts. In 2011, he received a scholarship from the Royal Academy of Music for his Masters degree and is currently studying under the guidance of Igor Petrushevsky.
Raphael Lang, (born in 1990) is a French-American cellist. From the age of 13, he studied at the National Regional Conservatory of Paris with Marc Coppey, Raphael Pidoux and Erwan Faure. Since 2009, he is an undergraduate at the Royal Academy of Music, in the class of David Strange. He has participated in masterclasses with Raphael Wallfisch, Robert Cohen, Colin Carr, David Finckel or Christoph Henkel. At the Royal Academy, he is the winner of the May Mukle Prize 2011, the David Martin/Florence Hooton Prize 2012, and received the Robert Alva Memorial Prize and the Peter Halling Prize. He has been accepted into the LSO String Experience Scheme, and will be performing with them later in the year. He performs frequently in the USA as soloist and chamber musician.
George White is currently in his final undergraduate year at the Royal Academy of Music (RAM), studying with Garfield Jackson of the Endellion String Quartet. At the RAM, George is an active orchestral player and has performed under the batons of prestigious conductors, including Sir Simon Rattle, Edward Gardner, Sir Trevor Pinnock and Sir Mark Elder. In 2011, he performed as principal viola with the RAM Sinfonia for the world premiere production of Sir Peter Maxwell Davies' opera, 'Kommilitonen!', and 2012 saw his first performance with the Sainsbury's Royal Academy of Music Soloists, under the direction of Clio Gould. Alongside his orchestral commitments, George is a passionate chamber musician and has been in demand with a number of long-standing ensembles and one-off group projects. He has received coaching from members of the Endellion, Doric, Emerson, London Haydn, Chilingirian and Skampa string quartets, members of the Nash Ensemble and many other eminent chamber musicians.
When: Thu 7 March 2013, 7pm;
Where: Romanian Cultural Institute, London
Admission is free, but places are limited. Early booking is well recommended.
Please reserve your seats at T: 020 7752 0134, E: office@icr-london.co.uk
The seats are allocated on a first come, first served basis.