Young pianist Cristiana Achim at St James's Piccadilly
06/11/2019 @ St. James's Church, Piccadilly, 197 Piccadilly, London W1J 9LL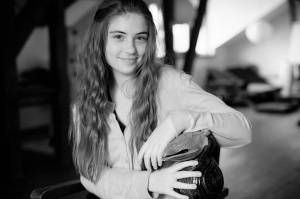 The Romanian Cultural Institute's series at St. James's Church Piccadilly continues, this November, with a lunchtime recital featuring up-and-coming pianist Cristiana Achim, who promises to impress us with her distinctly energetic temperament.
Taking inspiration from the exuberance of Bonfire Night, Cristiana will fill the barrel vault of the elegant church with musical fireworks composed by Clara Schumann, Debussy, Bartók and Robert Schuman.

Programme:
Clara Schumann - Romance in B minor
Robert Schumann - Papillon, Op.2
Debussy - Clair de lune; La Cathédrale Engloutie; La Puerto del Vino; Feux d'artifice
Bartók - Suite No.14 for piano
Born and raised in Bucharest, pianist Cristiana Achim began learning the piano at the 'Dinu Lipatti' National College of Arts and is now studying at the Royal College of Music in London, under the tutelage of Nigel Clayton.
Winner of numerous international piano competitions such as the 'Pro Piano' International Competition and the 'Tudor Dumitrescu' International Piano Competition, Cristiana has also furthered her musical capabilities by taking part in piano masterclasses throughout Europe, most recently at the Malta International Music Festival, British Isles Music Festival and SoNoRo Festival. As a resident artist with the Romanian Royal House, Cristiana was invited to play with the Royal Camerata in 2016 and 2018 at the Atheneum in Bucharest.
Cristiana has developed a keen interest in jazz and folk music and is well-versed in the art of improvisation. She is a regular guest performer at jazz and 'café chantant' venues in Bucharest and provides piano music at art exhibitions at the Romanian National Theatre in Bucharest. Her outreach work includes a long string of charity performances for hospitals, nursing homes and orphanages, as well as bringing music to those with limited access to it.
When: Wednesday 6 November 2019, 13.10
Where: St. James's Church, Piccadilly, 197 Piccadilly, London W1J 9LL
This lunchtime concert is free and no ticket or booking is required.