WINNING WORDS: POETRY AND SPORT
11/06/2012 @ Kings Place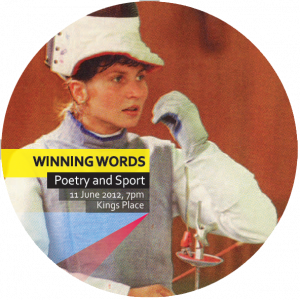 A hymn to athletic and poetic excellence, Winning Words. Poetry and Sport is a rare occasion to see Romanian Olympic champion fencer Laura Badea and British and American Olympic gold medalists Tanni Grey Thompson, Edwin Moses and Chris Holmes reading and discussing classical and contemporary poetry, accompanied by the Denys Baptiste Jazz Quartet. The evening is hosted by BBC sports personality Clare Balding.
With the same precision, charisma and grace that made her a great athlete, Laura Badea will take us through the winning words of great Romanian poets Gellu Naum and Nichita Stănescu.
The poetic soirée is an event organised by Poet in the City in partnership with the Romanian Cultural Institute, Wining Words, Faber and the United States Embassy London.
Laura Badea is a former Romanian fencing champion. Laura has won 3 Olympic medals, including a gold medal for Individual Foil at the 1996 Atlanta Olympics. Currently, Laura Badea is the Director of the Department of the Romanian Olympic and Sports Committee and of the Department for Olympic Education, School and University Sport.
Chris Holmes MBE is Britain's most successful Paralympic swimmer ever. Despite losing his sight overnight at 14, Chris has won 9 gold medals, including 6 at the 1992 Barcelona Games – a feat never equaled by any Briton. He was awarded the MBE for services to British sport aged 20.
Edwin Moses DBE is a former American track and field athlete who has won 8 Olympic gold medals. Edwin is also a key innovator in the development of 'drugfree' sports.
Tanni Grey Thompson DBE is one of the UK's most successful Paralympic athletes and has won 11 gold medals. Tanni has also won the London Marathon 6 times, holds a DBE for services to sport and was conferred the title of Baroness in 2010.
Clare Balding is an award-winning British sports journalist. After covering the Olympic and Paralympic Games for over a decade, Clare now presents sports programmes for the BBC and Radio 4.
When: Monday 11 June, 7pm
Where: Kings Place, King's Place, 90 York Way, London, N1 9AG
Tickets: 9.50 at http://www.kingsplace.co.uk/