"WHO IS ROMANIA" Series
09/10 - 20/11/2020 @ online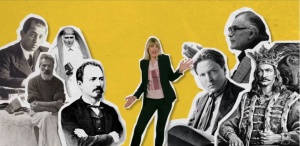 The Romanian Cultural Institute in London will release the unique mini-series "Who is Romania", to create visibility and awareness in Britain for extraordinary Romanian personalities and to promote Romania in an innovative manner.
"Who is Romania" are short engaging episodes that tell the rich story of Romania through its most outstanding historical and cultural personalities.
Stephen the Great: Moldavian hero who built the painted monasteries, listed as a

UNESCO World Heritage Site

Queen Marie of Romania: English-born Princess and World War I heroine, the

ultimate A-lister of her time

George Enescu: world-famous classical musician and composer
Nicolae Grigorescu: founder of modern Romanian painting
Constantin Brâncuși: patriarch of modern 20th century sculpture
Mihail Sebastian: Jewish playwright and author of one of the foremost chronicles of

the rise of fascism in Europe

"Who is Romania" is presented and written by historian & broadcaster Dr Tessa Dunlop. Passionate about Romania and a world expert in the early 20th century Romanian-British relations, Tessa speaks the language and is a best-selling author (The Bletchley Girls / The Century Girls) and award-winning presenter (BBC2's Coast) in Britain. She first came to Romania in 1992 as a volunteer in an orphanage and now has her own Romanian family and is considered by many an informal ambassador for the country: 'It has been an enormous pleasure to show off the extraordinary historical feats and personalities from a country that is so often misunderstood in the West. Hopefully these films will give you the back story and flavour of a remarkable people.'
"Who is Romania" is an initiative of the Romanian Cultural Institute in London and is produced by Storytailors, an international production house covering 40+ countries worldwide.
The episodes will be released weekly from 9th October on www.icr-london.co.uk and www.facebook.com/ICRLondon
Social Media: #WhoIsRomania @RCILondon @TessaDunlop
Episode 1: Stephen the Great
Episode 2: Queen Marie of Romania
Episode 3: George Enescu
Episode 4: Nicolae Grigorescu
Episode 5: Mihail Sebastian
Episode 6: Constantin Brâncuși