"We are not alone": Legacies of Eugenics - Exhibition curated by Professor Marius Turda
21 - 30/09/2021 @ The Wiener Holocaust Library, London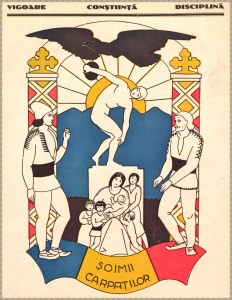 Join The Wiener Holocaust Library to mark the launch of a new travelling exhibition, curated by Professor Marius Turda (Oxford Brookes University), which explores the history and legacies of eugenics, a hundred years on from the influential Second International Congress of Eugenics held at the American Museum of Natural History in New York.
"We are not alone": Legacies of Eugenics
This anti-centennial moment presents with an opportunity to review how myriad assumptions and attitudes rooted in eugenics continue to affect our world in ways both obvious and hidden. Engaging with, and contributing to, a global anti-eugenic movement of reckoning with the past, the exhibition "We Are Not Alone": Legacies of Eugenics reveals the shifting and fluid meanings that characterised ideas of human betterment in different national and international contexts. It offers a historically informed account of our eugenic past, present, and future, balancing various elements of continuity and discontinuity, of idiosyncrasies and similarity. Continued education about and engagement with eugenics, as well as its public condemnation, are essential components of our efforts to understand a hidden and tenebrous past, while at the same time, continuing work towards a fair and just society.
The opening event on 21 September will feature contributions by Dr Lisa Pine and Professor Joe Cain. With thanks to Oxford Brookes University, Public History Project, and the Romanian Cultural Institute.
When: 21 September - 30 September 2021, Tuesday - Friday, 10am – 5pm.
Where: The Wiener Holocaust Library, 29 Russell Square, London WC1B 5DP.
Free entry.
Special event: 'Unearthing the roots of eugenics': A Talk by Professor Marius Turda
Thursday 23 September, 7.00pm | The Royal Institution of Great Britain, 21 Albemarle Street, London, W1S 4BS | Details and tickets.

Medical historian Marius Turda explores, in this talk, the roots of the pseudoscience of eugenics. He will argue that the longevity of eugenics is due not just to its promise of drawing together scientific and social theories, but also the credibility it was given by the scientific elite – notably Francis Galton in the 1860s and 1870s.
This event is organised in partnership with journalist Angela Saini and the 'Challenging Pseudoscience' group at the Royal Institution.
Marius Turda is professor at Oxford Brookes University and Director of its Centre for Medical Humanities. His main research interests include history of eugenics, scientific racism, history of anthropology and history of medicine. He has published a number of books on the history of eugenics, including Modernism and Eugenics, Latin Eugenics in Comparative Perspective and The History of East-Central European Eugenics: Texts and Commentaries. He is the general editor of A Cultural History of Race, published in 6 volumes by Bloomsbury in 2021. He has also produced a podcast series on the current relevance of eugenics and curated two exhibitions, including the forthcoming 'We are not alone': Legacies of Eugenics at the Wiener Holocaust Library (21-30 September 2021).