Vivacious Duo Kitharsis in recital at St Martin-in-the-Fields
17/04/2018 @ St Martin-in-the-Fields, Trafalgar Square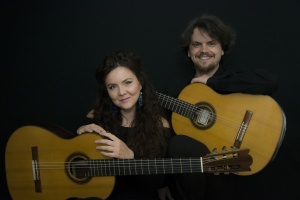 The popular Romanian series on the musical stage of Trafalgar Square continues with a vivacious recital offered by guitarists Alexandra Petrişor and Dragoş Horghidan, with a programme of irresistible gems by Jean Philippe Rameau, Joaquin Rodrigo and Cătălin Ștefănescu-Pătrașcu.
Programme:
Jean Philippe Rameau - Allemande
- Le Rappel des Oiseaux
- Les Tendres Plaintes
- Les Cyclopes
Cătălin Ștefănescu-Pătrașcu - Gerar
Joaquin Rodrigo – Tonadilla
Astor Piazzolla - Tango Suite
Duo Kitharsis is a Romanian guitar duo made of Alexandra Petrișor and Dragoș Horghidan and established in 2009. Upon graduation from The National University of Music in Bucharest where they studied under the guidance of Cătălin Stefănescu-Pătrașcu, the two musicians enrolled in a master's degree at the Hochschule für Musik und Darstellende Kunst Stuttgart with Ivo and Sofia Kaltchev as mentors. Since 2013 and 2016, Alexandra and Dragoș studied at the Conservatoire de Strasbourg under the supervision of one of the best-known guitar duos in the world, Duo Melis (Alexis Muzurakis and Susana Prieto). In 2016 they were awarded a Master degree by the Music Academy of Strasbourg and University of Strasbourg with excellent distinctions.
When: Tuesday, 17 April 2018, 13:00
Where: St Martin-in-the-Fields, Trafalgar Square, London