Visit the House of Romania during Open House London 2013
21 - 22/09/2013 @ 1 Belgrave Square, London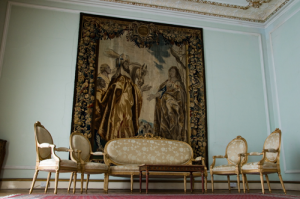 If you are interested in discovering one especially grand mansion, the work of Thomas Cubitt - perhaps the most important figure in the building industry for the first half of the nineteenth century, don't hesitate to pay us a visit!
The Romanian Cultural Institute takes part, for the second time, in the Open House event, the capital's greatest architectural showcase on 21 & 22 September 2013. Open House celebrates all that is best about London's buildings, places and neighbourhoods, giving a unique opportunity to get out and under the skin of London's amazing architecture, with over 700 buildings of all kinds opening their doors to everyone – all for free.
The House of Romania, situated in the prestigious Belgrave Square, one of the grandest and largest 19th century squares in London, has a rich history. It was erected in 1820s, was acquired by the Romanian government before WWII and has functioned as embassy, ambassadorial residence or cultural institute ever since. Our house in 1 Belgrave Square is Grade I listed by the English Heritage as a building of exceptional interest.
Historical Background
Belgravia was originally laid out and built by Thomas Cubitt, nicknamed the "Emperor of the Building trade", the creator of Belgravia, under a special Act of Parliament passed in 1826. Belgrave Square now stands on the site of what was once an open, rural expanse known as the Five Fields. It was part of the Ebury Farm, which came into the Grosvenor family in the 17th century through the marriage of Mary Davies to Sir Thomas Grosvenor.
One historian described how Cubitt set about the task of building Belgravia: "The clay he removed and burned into bricks, and by building upon the substratum of gravel he converted this spot from the most unhealthy to one of the most healthy in the metropolis in spite of the fact that its surface is but a few feet above the level of the River Thames at high water during spring tides".
We look forward to seeing all of you in our majestic house blessed with elegant halls, adorned with old furniture and paintings by great Romanian artists. And hopefully we will also convince you to come back for inspiring and original cultural events: concerts, screenings or exhibitions.
When: 21 – 22 September 2013; General access, last entry 4.30pm.
Where: Romanian Cultural Institute, 1 Belgrave Square, London SW1X 8PH.
Free entry.