Visionary theatre maker Silviu Purcărete's "Gulliver's Travels"
17 - 20/08/2012 @ King's Theatre, Edinburgh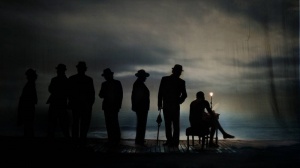 After the Festival triumph of "Faust" in 2009 director Silviu Purcărete returns with the Radu Stanca National Theatre of Sibiu, Romania and the world premiere of his version of "Gulliver's Travels".
The Romanian Cultural Institute is proud to support Silviu Purcărete's new performance within the Edinburgh International Festival
Irish writer Jonathan Swift's savage political satire is seen through the eyes of visionary theatre maker Purcărete with an original score by Irish composer Shaun Davey. Driven by Davey's musical journey, Purcărete's production gathers cultural and social aspects of contemporary society and explores themes of voyage, dream, exile, immigration, emigration, solitude and togetherness.
'I may never see a grander more theatrical event in my life'
The Observer on Faust, Festival 2009
'Purcărete's mighty show delivers a visual and aural experience so jaw droppingly bold that it makes most attempts at immersive theatre seem like a paddle in the shallows'
The Scotsman on Faust, Festival 2009
Presented by Radu Stanca National Theatre of Sibiu, Romania.
Please note this performance contains adult themes that may not be suitable for children.
Performed in Romanian with short excerpts in English and English supertitles.
Silviu Purcărete Director; Dragoş Buhagiar Set designer; Shaun Davey Music
Supported by

Ministerul Culturii şi
Patrimoniului Naţional
Part of Festival 2012
When: 17-20 August, 8pm (With an additional performance on Sunday 19 August, 2:30pm)
Where: King's Theatre, Edinburgh
Tickets: £12 - £30 online at http://www.eif.co.uk/gulliver