Violinist Preston Yeo and Pianist Leona Crasi Resume the Series at St. James' Church Piccadilly
30/10/2020 @ St. James's Church, Piccadilly, London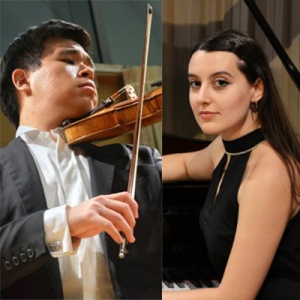 The Romanian Cultural Institute is delighted to announce that the series at St. James' Church Piccadilly will resume live this Friday with an exciting lunchtime concert featuring British violinist Preston Yeo and Romanian pianist Leona Crasi.
Both graduate students of the Royal Academy of Music, they will enchant the public with a repertoire featuring Ludwig van Beethoven's violin sonata in A minor and George Enescu's Impressions d'enfance.
Programme:
Ludwig van Beethoven - Violin Sonata No.4 in A minor Op.23
George Enescu - Impressions d'enfance
Preston Yeo is a young British classical violinist and one of the youngest pupils to be accepted at the Purcell School at age seven. He is a prize-winner of the Marlow Music Festival, North London Festival, Three Rivers Young Musician of the Year, and Purcell's Middle School Concerto Competition. His solo appearances have included back-to-back performances of Tchaikovsky's Violin Concerto with the Southampton University Symphony Orchestra and the Penzance Orchestral Society in March 2019; participating in violin masterclasses with James Ehnes, Lawrence Power, and Alina Ibragimova; and performing at Peleș Castle (Romania), broadcasted on Romanian television, radio and online. As an orchestral player, Preston was selected for the prestigious LSO String Experience Scheme 2019/20, performing as part of the LSO at the Barbican in 2020. Previously, he has worked with Sir Mark Elder, Trevor Pinnock, Jac van Steen and Robert Trevino, at halls such as the Royal Festival Hall, Queen Elizabeth Hall, Ashmolean Museum and Cadogan Hall. Preston recently completed his Bachelor of Music with Remus Azoiței and is currently continuing his master's studies with Joshua Fisher, kindly supported by Royal Academy of Music scholarships.
Leona Crasi's passion for music started at a very young age and she has participated in multiple international competitions across Europe, United States and Africa. Most recently, she was awarded prizes in the 2018 HRH Lalla Meryem International Competition in Morocco and at the XIII Hungarian Music Competition in Romania. Also, an active performer, her concerts in recent years include performances at the Lucerne Piano Festival in Switzerland, The Aegean Arts Festival in Greece and the Hungarian Institute in Vienna. Leona started her music studies at the 'Sigismund Toduta' Music School in Cluj, Romania, she later continued to study at the Alabama School of Fine Arts in Birmingham, USA, before pursuing her bachelor degree at the Royal Academy of Music in London, where she is currently a masters student of Colin Stone.
When: Friday 30 October, 13:00
Where: St. James's Church, Piccadilly, 197 Piccadilly, London W1J 9LL
Free entry. Please book your tickets here (reservations are made directly through St James' Picadilly Church).
Audience will be seated in socially-distanced 'seating bubbles', and members of the same household may sit together in one bubble. Please choose one ticket based on the number of people attending from the same household. If you register and find yourself no longer able to come, please return your ticket so we can give it to someone else.
Face coverings are currently mandatory in entertainment venues and places of worship unless you have a legal exemption. If you have further questions, please email concerts@sjp.org.uk or visit https://www.sjp.org.uk/listings.html.