Poetic Voices in Conversation: Vasile Garnet and Mario Petrucci
17/11/2011 @ Institutul Cultural Român Londra, 1 Belgrave Square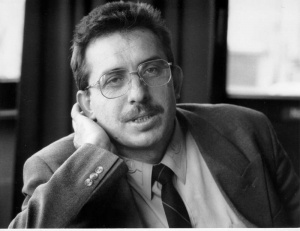 Vasile Garnet will conclude the 2011 series Contemporary Romanian Poets organised in partnership with Poet in the City, which over the course of 2011 has presented six of Romania's most accomplished poets: Denisa Comănescu, Claudiu Komartin, Bogdan Ghiu, Miruna Vlada, Andrei Bodiu and Vasile Gârneţ. Mario Petrucci will join the Romanian poet as special guest.
Vasile Gârneţ (b. 1958) is considered a remarkable cultural personality and one of the important poets of contemporary Romanian literature. Vasile's poetic works, which include A Character in the Forgotten Garden and Borges Field, have been awarded numerous literary prizes in both Romania and his native Moldova. A subtle and refined poet, he uses a striking montage of poetic imagery to reveal a deeper aesthetism beneath.
Mario Petrucci, a metaphysical poet of international standing, an ecologist and PhD physicist, will join Vasile Gârneţ as special guest. He has received major literary prizes across the board (National Poetry Competition (3rd); four times winner of the London Writers competition; Bridport Prize (winner); New London Writers Award). His poem on Chernobyl, Heavy Water (2004), captured the prestigious Arvon Prize for poetry; his other volumes include Flowers of Sulphur (2007), i tulips (2010) and the waltz in my blood (2011).
The event will be hosted by Amanda Hopkinson, a Senior Fellow at the University of East Anglia and Visiting Professor of Literary Translation at Manchester University and at City University, London, who will provide an English introduction and will place the poets in context for the English-speaking members of the audience.
Poetry in Romanian will also be read and performed in English translation by actress Cristina Catalina.
When: Thursday 17 November 7.00pm
Where: Romanian Cultural Institute, 1 Belgrave Square, London SW1X 8PH
Admission free but booking is essential at: 020 7752 0134 | office@icr-london.co.uk.