Urma / Legacy, Dorian Boguță's notable directorial debut, at the Romanian Cinematheque
11/12/2020 @ online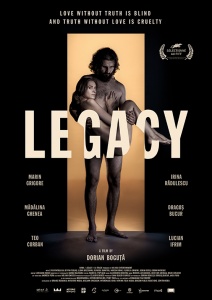 The Romanian Cinematheque returns with the British premiere of Urma / Legacy, in an exclusive online event introduced by Moldovan-born, Romanian-based actor-director Dorian Boguţă. The thriller, which received the Romanian Film Days award for debut at the Transilvania International Film Festival in 2020, explores the aftermath of the disappearance of a famous piano player.
Casting iconic names of the Romanian New Wave, the film had its world premiere in the competition of Festival International du Film Francophone de Namur 2019.
Synopsis: A young man has disappeared; his sister and his girlfriend are mystified. The film accompanies two policemen as they investigate: collegial jokes, the everyday monotony of the work and, now and again, new leads. The missing person was fatally ill and yet he obviously wanted to make a mark before his departure. By any means necessary, as ultimately proves to be the case in this laconically captured psycho-drama.
Dorian Boguță is an actor, director, producer born in Chisinau in 1971. He moved to Bucharest in 1999, where he began his career in cinematography, first as an actor then as director and producer. He has starred in more than 40 films, directed a few short films and his debut feature film "Urma". Since 2010, his film acting school has supported emerging actors.
Director: Dorian Boguta
Script: Loredana Novak, Dorian Boguta
Certified: 15+
Running time: 105 min
Language: Romanian with English subtitles
With: Teodor Corban, Marin Grigore, Irina Rădulescu, Dragoș Bucur, Mădălina Ghenea, Liviu Pintileasa, Istvan Teglas, Ilona Brezoianu.
When: Friday 11 December 2020, 18.00-23.00. Introduction by director Dorian Boguță.
Where: online. Please register here before 16.00 on the day, in order to receive the link. Free.