'Untamed Skin': Romanian Design at the London Fashion Week 2015
20/02 - 20/03/2015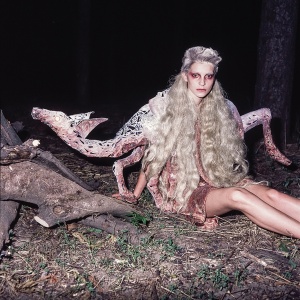 LATEST NEWS from the IFS 2015 awards ceremony: 'Untamed Skin', our entry for the competition, has brought Romania 3 AWARDS! Out of 27 exhibitions and 110 designers representing 27 countries from around the world, it has just been awarded the Special Mention for best exhibition, best emerging designer (Vika Tonu & Alex Nimurad) & best curator (Roxana Gibescu)!
Discover the creative forays of contemporary Romanian fashion design with a spectacular showcase centred upon the interplay between tradition and innovation. Fashion designers Alexandru Nimurad and Alexandra Abraham, and jewellery designer Victoria Tonu developed their clothing and accessories reinterpreting the symbols, forms, colours of the traditional Romanian blouse, as well as its rich cultural background and visual connections.
Imbued with narrative and memory, the 'Untamed Skin – the Romanian Blouse' exhibition takes the story of the exquisite Romanian blouse back to its roots as a wild, yet delicate garment which was always worn close to the skin, hand-crafted using natural textiles and pigments, and embroidered with primordial symbols and patterns.
The exhibition, part of the International Fashion Showcase at the London Fashion Week 2015, is curated by Roxana Gibescu and organised by the Romanian Cultural Institute in London in partnership with GALATECA Gallery of Contemporary Art and Design in Bucharest.
Alexandru Nimurad is a young and aspiring designer based in Bucharest, Romania. His education and experience extend from fashion design and architecture to graphic design and illustration. His first association with fashion design was in 2009, when his illustrations were printed on fabrics and became part of a collection. Since then, he has collaborated with several advertising agencies, artists and designers. Alexandru creates characters that are heavily influenced by mythology, biology and astronomy, and tell stories about life. All of his projects have the same simple core that is a small part of the daily routine.
A graduate of architecture and fashion design, Alexandra Abraham reinterprets the use of fixed elements in the fluid world of fashion. 2011 was her launch year, with 'Formula' – a collection inspired by natural elements and human limits, and the start of new collaborations with Romanian designers, fashion shows and various publications. Alexandra developed an interest for the harness's affect in fashion and focused all her attention on designing a new concept of leather accessory easy to adapt to any situation, offering at the same time the freedom to define a personal creative style by naturally wearing it.
Victoria Tonu's main areas of interest are jewellery, print and collage. Vika Tonu Design was born in June 2013 with the first ring series entitled 'Dimiourgia', revealing a universe of jewellery loaded with symbolism and power. By using the four basic shapes – the triangle, the square, the circle, the semi circle – and by associating them with the four universal forces – fire, earth, water, air – Victoria wishes to induce a cognitive process for the wearers of her jewellery, by offering them objects as totems, which elusively remind about the elements that form our personalities. Her style can be described as minimalistic, geometric, one of simplification striving to achieve the essence of things.
When: Preview Friday 20 February, 7:30-9:30 pm.
The exhibition is open until 20 March, Mon-Fri, 10 am – 5 pm.
Where: Romanian Cultural Institute, 1 Belgrave Square, London SW1X 8PH
Free entry.
Snapshots from the exhibition by Cătălin Savin