Unpack by Cătălina Florescu: Key Moments of Romania's History in a One-woman Show
30/03/2021 @ Romanian Cultural Institute, 1 Belgrave Square, SW1X 8PH, London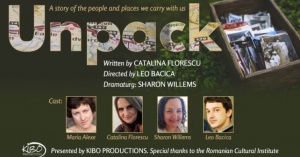 RCI London will broadcast for its online audiences, on 30 March, the performance entitled Unpack by Cătălina Florescu, a one-act autobiographical play that weaves the personal history of people, of objects and our affective memory that we carry everywhere, with essential moments in the history of Romania: the winning of the Champions Cup by Steaua football team in 1986, the Revolution of 1989, the profound transformation of Romania in the '90s and, ultimately, the country's entry into the club of modern democracies. Beyond its historical anchorage, the play is also an emotional journey in which many spectators might find themselves: childhood memories and the way the objects around us acquire their own memory.
Unpack
Written by Cătălina Florescu | Performed by Maria Alexe | Directed by Leo Băcica | Dramaturg Sharon Willems
Cătălina Florescu holds a PhD in Comparative Theater and Medical Humanities conferred by Purdue University (USA). She teaches courses in theatre, literature, cinema, and writing at Pace University in New York City. Cătălina is the New Play Development Curator at Jersey City Theater Center. So far, Cătălina has written and edited 8 books.
Maria Alexe is a Romanian actress who worked in theater, film and voice-over, among others. She has worked with companies such as Badac Theater, Smokescreen Productions, Playades, Hurricane Productions and Face2Face Theater. Previously, Maria has collaborated with Kibo Productions, starring in Suicidal Dog and Laika (Cățelul sinucigaș și Laika) by Cătălina Florescu, produced in 2019.
Leo Băcica is the director of Kibo Productions and he focuses on Romanian plays for English-speaking audiences. He directed his first English performance of A Lost Letter (O scrisoare pierdută) by I.L. Caragiale, produced Iona by Marin Sorescu in Great Britain and US, as well as another play by Cătălina Florescu – Suicidal Dog and Laika.
Sharon Willems is the artistic director of Kibo Productions and dramatic supervisor for Unpack. Sharon has directed various plays both for Kibo Productions and in external collaborations as well. Currently, she offers dramaturgy and screenwriting consulting services.
When: 30 March 2021, 7PM. The show will be available until 31 December 2021.
Where: RCI London's Facebook page, YouTube channel and website