UK Release of Critically Acclaimed Documentary 'Collective' | Panel Discussion with director Alexander Nanau, journalist Cătălin Tolontan and Sarah Clarke (Article 19)
23/11/2020 @ online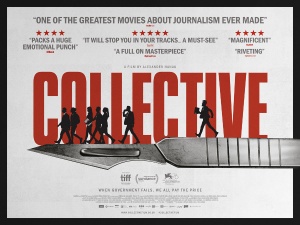 The Romanian Cultural Institute in London is supporting the UK release of critically acclaimed documentary COLLECTIVE (COLECTIV), Romania's official Oscar entry in the International Feature Film category, by hosting a panel discussion with the film director Alexander Nanau and journalist Cătălin Tolontan. The discussion will be moderated by Sarah Clarke, Head of Europe and Central Asia - Article 19, the international human rights organization with a specific focus on the defence and promotion of freedom of expression and freedom of information worldwide. A special event in partnership with film-distribution company Dogwoof.
Monday 23 November 2020, 18.30 - live on RCI London's Facebook page.
The film will be released online on 20 November 2020 on Amazon Video, Curzon Home Cinema, Dogwoof on Demand and Itunes. More details at www.collectivefilm.co.uk/watch-at-home
_______________________________________________________________________________
COLLECTIVE (COLECTIV)
The film received its World Premiere at the 2019 Venice Film Festival, where it was highly lauded, followed by the 2019 Toronto Film Festival and the 2019 Zurich Film Festival, where it won the Golden Eye Award. Earlier this year it played at the 2020 Sundance Film Festival and opened the Human Rights Watch Festival 2020.
Director Alexander Nanau: "The hospital corruption and subsequent government cover-up in Collective took place in Romania. Yet this is not just a local story. There is a universality which is even more relevant post-Covid. Government corruption is sadly all too familiar across the world and the need to safeguard social justice and press freedom feels more urgent than ever. These are freedoms that have been compromised lately in the UK and it could not be a more important time to bring my film to a UK audience"
Journalist Cătălin Tolontan: "When the press bows down to the authorities, the authorities will mistreat its citizens. This always happens, worldwide, and it has happened to us."
Synopsis:
On 30th October 2015, a serious fire broke out at the Colectiv nightclub in Bucharest. It was one of the worst disasters in recent Romanian history, with 27 people killed and 180 injured. Fierce protests erupted when 37 of the injured subsequently died from bacterial infections. Director Alexander Nanu followed a team of investigative journalists at the Romanian sports newspaper Gazeta Sporturilor as they uncovered a vast health care fraud that siphoned off urgent hospital funding and diluted disinfectants while enriching the country's most powerful moguls, hospital managers, doctors and politicians.
COLLECTIVE is a powerful and shocking verité story, that follows Gazeta Sporturilor's investigation into this hospital corruption in the wake of the fire. Featuring incredible access to journalists, politicians, survivors and whistleblowers, it is a must-see social justice documentary, which highlights the essential role of a free press in calling out corruption.
Directed, shot and edited by Alexander Nanau, the film is an Alexander Nanau Production, made in co-production with Samsa Film and HBO Europe. Running time: 109 minutes.