UK Premiere: Rocker at the East End Film Festival 2013 (screening+Q&A with lead actor)
08/07/2013 @ Rich Mix, London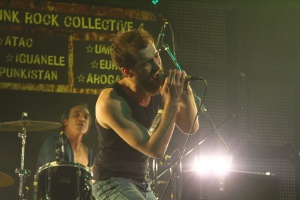 The fifth consecutive collaboration with our friends from the East End Film Festival brings to London one of the most anticipated Romanian films of 2013: Marian Crisan's Rocker.
Victor is a former rebel without a cause still eluded by dreams of a conventional life. His conceited, heroin addict son dreams of making it with his band The Iguanas, whilst Victor does everything – including score – for him. However, all that is about to change at The Iguanas' first big gig, in this beautiful evocation of life stuck in a rut. Read more.
Director: Marian Crisan | Running time: 93min | EEFF Best Feature Competition

The Romanian Cultural Institute in London is pleased to support lead actor Alin State's presence in London for a Q&A session after the screening.
When & Where: 8 July, 6pm @ Rich Mix
Tickets: £9.50 (£7.00 Student or Concs) from www.richmix.org.uk
Do not also miss:
TROIS EXERCISES (dir. Cristi Puiu)
Mould-breaking Romanian master Cristi Puiu takes on the novel
Three Conversations
by Russian writer/philosopher Vladimir Solovyov, turning it into three actor 'exercises' which steadily morph into a minimalist trilogy on cinema, literature, social and spiritual life, and acting in film. A playful, intelligent treat.
Trois Exercises screens at 2pm on Saturday 6th July at the Genesis Cinema.
Tickets available from the Genesis Cinema website
here
.
++++++++++++++++++++++++++++++++++++++++++++++++++++++++++++++++++++++++++++++++++++++++++++++
Founded in 2000, the East End Film Festival is one of the UK's largest film festivals. An annual multi-platform festival held in London, the EEFF presents a rich and diverse programme of international premieres, industry masterclasses, free pop-up screenings and immersive live events. The EEFF's mission is to discover, support, and exhibit pioneering work by global and local independent filmmakers, and to introduce viewers to innovative and challenging cinematic experiences. Attracting an annual audience of more than 30,000, the EEFF has established itself as a major international film festival situated at the heart of London's most dynamic quarter. EEFF 2013 takes place 25th June – 10th July 2013.
Are you ready to rock?