Another Run for 'Tzara.Dada.Theatre', Opened by the RCI President, Radu Boroianu
16/11/2016 @ Romanian Cultural Institute, 1 Belgrave Square, London SW1X 8PH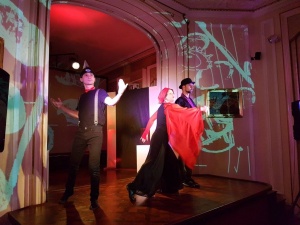 After the startling success of its first performance, we bow to the public request and present a second run of Cristian Luchian's hugely enjoyable show based on the theatre of Romanian avant-garde visionary Tristan Tzara. As part of the worldwide celebration of the Dada movement, the event features the plays 'Handkerchief of Clouds' and 'Gas Heart' in a tornado of acting virtuosity, astonishing visuals and evocative music.
We are honoured to open the evening with a keynote introduction by Mr Radu Boroianu, the President of Romanian Cultural Institute and a theatre director himself.
Book now to enjoy or relive the thrills of Dada's idiosincratic artistic formula, infused by massive doses of nihilistic humour and absurdist imagination!
'Handkerchief of Clouds' & 'Gas Heart'
Director: Cristian Luchian
Music: DJ Tyrrell
Performers: Cristinel Hogaș, Cristina Haraba, Gabriel Mansour, Maria Alexe, Alin Balascan, Andrei Costin
Assistant Producer: Anca Doczi Luchian
An Immersive Theatre Production with the support of Romanian Cultural Institute in London.
"A manifesto is a communication addressed to the whole world, where there is no other claim than finding the means to cure the political, astronomical, artistic, parliamentary, agricultural and literary syphilis. It might be kind and decent, it is always right, it is strong, vigorous and logical. And by the way of logic, i find myself very nice." - Tristan Tzara
When: Wednesday, 16 November 2016 from 19:00 to 21:00
Where: Romanian Cultural Institute - 1 Belgrave Square London SW1X 8PH
Entrance is free but it is required to book your ticket on Eventbrite.
Please note that the seating is unreserved.