Two Veterans of Prestigious Musical Circuits in the 'Enescu Concerts' Series
07/05/2015 @ Romanian Cultural Institute, 1 Belgrave Square, SW1X8PH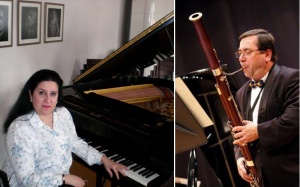 With impressive careers spanning over the last 30 years and innumerable apparitions on famous stages of Europe and beyond, pianist Ilinca Dumitrescu and bassoonist Vasile Macovei grace our 'Enescu Concerts' Series for a virtuoso incursion into the history of classical music. The programme matches legendary names of the Romantic and post-Romantic tradition with some of the greats of Romanian composition.
PROGRAMME:
Robert Schumann:
Arabeske Op. 18
Domenico Scarlatti:
Sonata in C major K. 200
Sonata in B flat major K. 551
Sonata in D minor K. 141 (Toccata)
Sonata in D major K. 492
Frédéric Chopin:
Mazurka in F sharp minor Op. 6, No 1 and Mazurka in A minor Op. 67, No 4
Fantaisie – Impromptu Op. 66
Valse in C sharp minor Op. 64, No 2 and Valse in E minor Op. posth.
Largo from Sonata Op. 65 in G minor (transcription for bassoon and piano by Vasile Macovei)
Camille Saint-Saëns:
The Swan from The Carnival of the Animals Suite (transcription for bassoon and piano by Vasile Macovei)
Intermission
Ciprian Porumbescu (1853-1883):
Dorul (Longing) (transcription for bassoon and piano by Vasile Macovei)
George Enescu:
Melodie and Carillon nocturne from Suite No 3, Op. 18
Ion Dumitrescu (1913-1996):
Five Aromanian songs (transcription for bassoon and piano by Vasile Macovei)
Doru Popovici (born 1932):
Byzantine Fresco - for bassoon solo
Benjamin Britten:
Nocturne
Paul Constantinescu (1909-1936):
Song and Toccata (Dance from Dobrogea)
A well-established name in Romanian music and a leading figure in international arts, pianist Ilinca Dumitrescu has performed in major concert halls on five continents, in forty countries and in thirty-three capitals. She was born in Bucharest, into an artistic family and studied under famous professors such as Cella Delavrancea and Mihail Jora in Romania and Stanislav Neuhaus and Yakov Flière in Moscow, where, in 1978, she graduated from the P.I. Tchaikovsky State Conservatory with the highest degree: 'Diploma of Merit'. Ilinca Dumitrescu is the recipient of most prestigious awards both in Romania (Romanian Academy Prize in 1995, Romanian Cultural Institute Prize in 2003, Radio Romania Cultural Prize in 2005 and the Romanian Musical Forum Prize for Lifetime's Achievement in 2013) and abroad (Commendatore dell' Ordine della Stella della Solidarietà Italiana in 2005, presented by the President of the Italian Republic, and Chevalier de l'Ordre des Arts et Lettres in 2012, bestowed by the French Government). She has pursued a career in various fields: besides being a concert pianist, she is also a musicologist (she was awarded a doctorate, Summa Cum Laude, by the National University of Music Bucharest), a professor, a television talk show host and producer and a former General Manager of the George Enescu National Museum in Bucharest. Her Scarlatti CD was nominated for Best Album of the Year at the International Record Critics Awards, in New York in 1986. She is frequently a jury member at international piano competitions and other musical events.
Vasile Macovei is not only the first bassoon soloist of the Bucharest National Opera's orchestra, but also a founder and member of the instrumental chamber groups Hyperion, Traiect, Gaudeamus, Archaeus and Modus. He is one of the winners of the International Contest in Markneukirchen (Germany – 1978) and has a Ph.D. in musical studies awarded by the Bucharest National Music University. He has toured extensively in Italy, Switzerland, France, Hungary, the Czech Republic, Slovakia, Bulgaria, Republic of Moldova, Great Britain, Spain, Portugal, Denmark, Mexico, India, Japan, Malaysia, and Egypt. Vasile Macovei has performed in important international festivals such as George Enescu International Festival in Bucharest, Synthèse Festival in Bourges, the Contemporary Music Festival in Huddersfield to mention only a few. He has collaborated with outstanding soloists and conductors such as Piere Dervaux, Alain Marion, Ilinca Dumitrescu, Iosif Conta, and Daniel Kientzy.
When: Thu, 7 May, 7pm
Where: Romanian Cultural Institute in London, 1 Belgrave Square, SW1X 8PH
Free entrance. Please book your ticket on Eventbrite.
Please note that the seating is unreserved.