Two for a Romanian Musical Bonanza
07/03/2018 @ St James's Piccadilly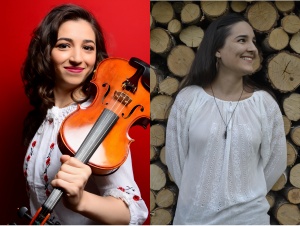 Violinist Adriana Cristea and pianist Teodora Oprişor, two brilliant young musicians trained in Romania and Britain, join forces for an afternoon of musical discoveries rarely, if ever, performed in London. The programme is a tribute to the Romanian musical tradition and features memorable works by Ion Scărlătescu, Grigoraş Dinicu, Mircea Chiriac as well as Ciprian Porumbescu's immortal Ballad.
Programme:
Constantin Dimitrescu - Rustic Dance
Ion Scărlătescu - Bagatelle
Grigoraş Dinicu - The Lark
Mircea Chiriac - Serenade
George Enescu - Ballad
Vasile Filip - Romanian Suite for Solo Violin
Grigoraş Dinicu - Martisor Hora (arr. Adriana Cristea)
Ciprian Porumbescu - Ballad
Bela Bartók - Six Romanian Folk Dances
Born in Ploiesti, Romania, in a family of musicians, Adriana Cristea started playing the violin at age of five, under the guidance of her parents. She has won 26 national and international prizes in competitions, including the first prize, the special prize and the "George Enescu" medal at "Remember Enescu" International Violin Competition. In 2015 she completed her Masters Degree with Distinction at the Royal Northern College of Music in Manchester with Professor Yossi Zivoni.
Teodora Oprișor was born in 1993 in Sibiu, Romania. She began playing the piano at an early age under the tutelage of prof. Orth Enikő, with whom she studied for 13 years. In 2012 she got accepted at the "Franz Liszt" Music University in Weimar, Germany. After finishing her undergraduate studies, she was awarded an entrance scholarship for her Master's degree at the Royal Academy of Music, where she is currently studying piano accompaniment.
When: Wednesday, 7 March at 13:10
Where: St. James's Church, Piccadilly
This lunchtime concert is free and no ticket or booking is required.