Tudor Giurgiu's Of Snails And Men debuts at the Edinburgh International Film Festival 2013
28 - 29/06/2013 @ Edinburgh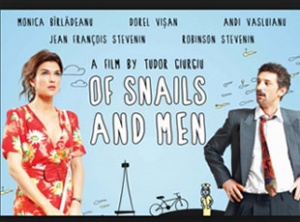 The Edinburgh International Film Festival continues its love affair with Romanian cinema – at this year's 67th edition Tudor Giurgiu will present for the first time in the UK his newest feature Of Snails and Men (Despre oameni si melci).
This production brings you the story of a group of workers employed by a now bankrupt factory, in early '90s Romania. Everything changes when one of the guys finds an unusual solution to save his co-workers from unemployment and the factory from bankruptcy. This is Tudor Giugiu's second feature film, after his debut with Love Sick in 2006.
Giurgiu's comedy is one of the most popular Romanian films of the past decade. The film was also successful internationally: the feature was awarded The Jury Prize of the Warsaw Film Festival, and the "Meeting Point" section trophy ex-aequo of the Valladolid International Film Festival, and also included in festivals such as Trieste and Goteborg.
Of Snails and Men is a Romanian-French joint venture produced by Libra Film (Romania) and Agat Films (France).
The Romanian Cultural Institute in London is pleased to support Tudor Giurgiu's presence in Edinburgh for a Q&A session after the screenings.
When & Where: 28 June, 20:15 at Cineworld 5 | 29 June, 15:10 at Cineworld 13
++++++++++++++++++++++++++++++++++++++++++++++++++++++++++++++++++++++++++++
Director's statement:
"My film is based on a true story. It is about an ordinary man who faces a big change: the fall of communism makes his domestic universe shaky. The way he lived his entire life is now endangered. We see this as a comedy, but it's also a very realistic film. Making a bitter-sweet comedy was not easy, and I was very preoccupied with capturing the 1990s vibe in Romania. It was a time full of idealism, naivety, and hope. Most people, especially those from small towns, were either dreaming of leaving the country or finding a way to get rich very quickly. I fell in love with Ionut Teianu's script and I knew from the very beginning that such a story (about men selling their sperm in order to save their jobs) needed to be told gently and with empathy."
The Edinburgh International Film Festival is an annual fortnight of cinema screenings and related events taking place each June. Established in 1947, it is the world's oldest continually running film festival. The EIFF aims to present both UK and international movie premieres and to exhibit the work of film-makers.