Travelling: Re-imagining Irish Historical Works, on St. Patrick's Day
17/03/2021 @ online | Website, Facebook page and YouTube channel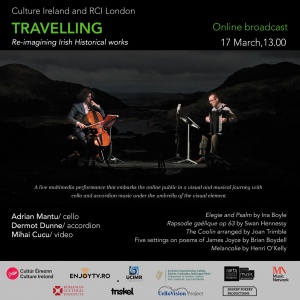 A formidable multimedia performance marrying the technical brilliance of the cello with the mesmerising accordion music will be presented to the RCI's audiences on 17 March 2021, celebrating Saint Patrick's Day. The two multi-awarded Romanian & Irish musicians, Adrian Mantu - cellist, and Dermot Dunne - accordionist, will perform a selection of historical Irish works of rare sensibility and spectacular beauty marking also 30 years of diplomatic relationships between Ireland and Romania.
The musical journey is accompanied by the artist Mihai Cucu's video artworks, blending visual elements that create an unforgettable aural experience.
Programme:
Ina Boyle - Elegie (1913)
Ina Boyle - Psalm (1927)
Swan Hennessy - Rapsodie gaélique, op 63 (1925)
Joan Trimble - The Coolin (1939)
Brian Boydell - Five settings on poems of James Joyce (1944)
Henri O'Kelly - Mélancolie (1897)
The project is a partnership between Culture Ireland, EnjoyTV, UCIMR, CelloVision Project, Triskel Arts Centre Cork, Music Network, Jiggery Pokery Production & the Romanian Cultural Institute.
Adrian Mantu, cellist and founder of the renowned ConTempo String Quartet (1995), Royal Academy of Music London Quartet in Residence (1992-2002), RTÉ String Quartet in Residence (2013-2019), Galway's Ensemble in Residence (since 2002). Adrian also holds the Artistic Director positions of several grand festivals and art organizations, just to name a few: The Galway Music Residency, ConTempo Partnership, Enescu Festival Dublin, Luminosa Orchestra, Galway. He has won 12 national Cello/Chamber Music competitions in Romania and 16 international prizes and he composed and arranged music for the Trop Tard film (selected for Cannes Festival). Adrian was the principal cellist of both National Symphony Orchestra, Bucharest, Romania & Philamonie der Nationen, Hamburg, Germany and is invited regularly as a principal guest cellist with the main orchestras in Ireland (RTÉ, Wexford Opera Orchestra, Camerata, Luminosa, Irish Film Orchestra) and various European Chamber & Symphony Orchestras.
In the past 20 years, since moving to Ireland, Adrian took part in several projects performing on modern cello over 200 contemporary Irish works in several prestigious festivals (Europalia, NewMusic Dublin, Wigmore Hall: Irish Culture in Britain, Carnegie Hall: New Music New Ireland) and represented Ireland in the EU Project: "New Music/New Audiences".
Dermot Dunne, accordionist, has established himself as one of the leading Irish musicians of his generation. As a young student he was a frequent competition prize-winner both in Ireland and abroad, but it was after winning the 1996 RTÉ Musician of the Future competition that he came to wide public recognition. After completing his studies in 2001 at the Conservatory in Kiev, Ukraine, he returned to Ireland where he pursues an active career both as a performer and a lecturer at the TU Dublin Conservatory of Music and Drama. For over 20 years he has pioneered his instrument in Ireland – collaborating with many Irish composers and premiering 40 of the 54 works written for the accordion by Irish composers since 1995. He has been involved in more than 10 CD recordings. He has also arranged countless works both for solo accordion and for ensembles including accordion.
He has performed with Concorde Contemporary Music Ensemble since 2001 including performances of Irish contemporary music in England, France, Spain, Denmark, Slovenia and Macedonia. He has recorded two CDs and performed with Crash Ensemble at the Edinburgh Festival, the Royal Opera House Covent Garden London, Carnegie Hall, New York and the Kennedy Centre in Washington D.C.
Mihai Cucu, artist, has studied fine arts at George Enescu University of Arts, Iași, Romania and Falmouth College of Arts, UK. He mainly works in collaboration with composers and music performance groups developing unique video artworks for inclusion in live music performances. He also creates videos for musicians, animation video promos for cultural institutions, professional portrait and event photography and video documentation of live music performances. He has been doing this since 2009, as well as working in restoration of frescoes and iconostasis, painting and exhibiting Byzantine icons, glass painting and teaching Byzantine iconography. His approach involves working closely with musicians and music composers in creating unique video art content that integrates with the music performances. His works have been performed and exhibited in such venues as De Nieuwe Regentes Theater - The Hague, Porta Theater - Athens, National University of Music - Bucharest, National Operetta and Musical Theatre - Bucharest, Galway City Museum, Smock Alley Theatre – Dublin, Corso Theatre – Belgium and many others.
When: 17 March 2021, 13.00
Where: Live stream on RCI London's Facebook page and YouTube channel.
Free.