Transylvania, a pictorial journey
29/10 - 07/11/2014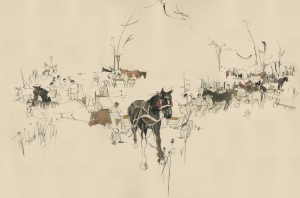 Illustrator and explorer George Butler's love letter to Transylvania, the exhibition 'Capturing Carpathia', made in collaboration with the Global Heritage Fund, opens at the RCI London as part of our perennial commitment to reveal the sights, sounds and tastes of Romania through the eyes of British travellers and artists. George Butler has spent two seasons in the Carpathians living with locals seeking to capture a fast-vanishing way of life and architecture through painting and in the most personal manner. The result is strikingly immediate and utterly intimate.
'George has wonderfully captured the fragile beauty of the changing world in Transylvania, as the calm and elegant traditional way of life is gradually and unceremoniously barged into oblivion by the machinations of the modern world'. - William Blacker, author of Along the Enchanted Way
George Butler is an artist and illustrator specialising in travel and current affairs. His drawings, done in situ, are in pen, ink and watercolour. In August 2012 George walked from Turkey across the border into Syria, where as an unofficial guest of the rebel Free Syrian Army he spent 4 days drawing the civil war damaged, small and empty town of Azaz. Six months later he made a similar trip back to Syria (Feb 2013) to record the stories amongst the refugees. These drawings were reproduced by the Times, the Guardian, the Evening Standard, Der Spiegel, ARD television Germany, NPR (USA) and reported on the BBC World News, BBC World Service, CNN, Al Arabiya and Monocle Radio. He has won the Editorial and Overall award for illustration at the V&A Illustration Awards and an International Media Award in May 2013.
His work has been exhibited in the Times Watercolour Competition in 2012 and again in 2014, in the Royal Institute of Painters in Watercolours exhibition at the Mall Galleries, 2008, 2009 & 2011, 2013 where he won the June Stokes Roberts Bursary and the Winsor and Newton Young Artist's Award.
'George Butler combines the curiosity and wanderlust of David Attenborough with the delicacy of brush of Audubon, travelling afar to bring back a subtle evocation of fauna and flora and the people he meets in far-flung places'. - Geordie Greig, Editor in Chief, The Mail on Sunday
When: Opening on 27 October, 6:30 - 8:30 pm. Running until 7 November 2014, free entry. Special event: 'Illustrating Fragility' - George Butler in conversation with William Blacker, Wed 29 October, 18.45 pm, tickets available from Eventbrite
Where: Romanian Cultural Institute London, 1 Belgrave Square, SW1X 8PH