"Trajan 1900": Lights & Music Show by Dreamrec and Rochiţe
17/01/2014 @ Victoria and Albert Museum, Room 111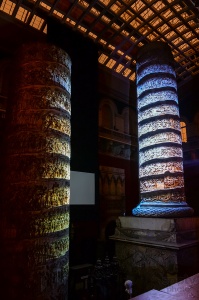 The Romanian Cultural Institute London celebrates 1900 years from the dedication of Trajan's Column in Rome, a timeless and crucially important monument for Romanian identity, with a modern take on two millennia of history, part of a festive programme of events spanning two months. The project is a collaboration with the Victoria and Albert Museum (V&A), with the support of the Romanian Embassy in London.
For two Fridays in December and January, the Casts Court of the V&A, dominated by a massive plaster cast of the original marble column acquired in 1873, will turn into an immersive installation that will transport you to the ancient kingdom of Dacia, now Romania.
Romanian artist Dreamrec has created a spectacular projection mapping on the cast of Trajan's Column, combining motion graphics and 3D animation that playfully highlights, deconstructs, augments and manipulates the Column's geometry and reliefs.
The dramatic carvings depicting Trajan's campaigns against the Dacians of the Danube frontier in AD 101-2 and 105-6 pulse, fold, and rupture to reveal scenes packed with figures and full of action: soldiers, statesmen, sailors and priests engaged in battles or negotiations, Roman troops building Apollodorus' magnificent stone bridge across the Danube and besieging the Dacian capital of Sarmizegethusa, whilst the daring Dacian king Decebalus resists Trajan's ultimate victory by eventually killing himself.
See the battle on the astonishing screen of the Column's cast, alongside a reverberating opus composed by Romanian musician Rochiţe, which dramatically recreates Dacian and Roman music, with sounds of ancient acoustic instruments such as flutes, harps, dragons, war drums and human voices.
Dreamrec (Silviu Vişan) and Rochiţe (Cătălin Matei) collaboratively create interactive, electronic, audio/visual installation environments and narratives that seek to add extra dimensions, optical illusions, and notions of movement onto objects, architectures and landscapes.
The presentations take place on 22 Nov (private view), 6 Dec (free) and 17 Jan 2014 (free), 18.15-21.25, Room 111, V&A