"Trajan 1900". Photography Exhibition in 3D
21/11 - 21/12/2013 @ Romanian Cultural Institute, 1 Belgrave Square SW1X 8PH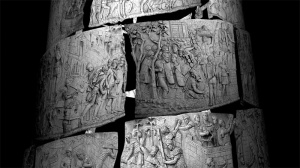 The "Trajan 1900" series of events organised by the Romanian Cultural Institute and the Victoria and Albert Museum (V&A) and celebrating 1900 years since the consecration of one of the most impressive monuments of antiquity, opened in 1 Belgrave Square with the stereoscopic photography exhibition "Trajan's Column" by architect Matei Filip, portraying the dramatic narrative of the great emperor's conquest of Dacia in 3D.
A partnership with the National Museum of Romanian History, the exhibition presents 125 scenes from the cast of the Column in Bucharest, offering in more than one way a new perspective on the amazing story and sculptural detail of the timeless and crucially important monument for Romanian history and identity.
2,500 figures carved in the relief spiraling around the column, in a dynamic 200m long narrative of key scenes of Trajan's two epic campaigns in Dacia, now Romania, come to life through 3D glasses, taking you to another world and dimension, full of military glory as well as artistic accomplishment. The exhibition also includes 3D animations of the Column created by architect Matei Filip and sound by Rochiţe, inspired by ancient sounds of flutes, harps and war drums.
The exhibition opened in the presence of HE Dr Ion Jinga, Ambassador of Romania to the UK, Mr Liviu Jicman, Vice-President of the Romanian Cultural Institute, and Dr Ernest Oberlander-Târnoveanu, Director of Romania's National History Museum.
After the opening, British star Richard Johnson introduced the special screening of "Columna", Mircea Drăgan's grand cinematic chronicle presenting the story of the conquest of Dacia and its extraordinary outcome, with a star-studded international cast featuring Antonella Lualdi, Amza Pellea, Ilarion Ciobanu and Florin Piersic amongst others.
When: Thursday 21 Nov, 6.30pm exhibition opening, 7.30pm film screening. The exhibition continues until 17 January 2014, Mon-Fri, 10am - 5pm.
Where: Romanian Cultural Institute, 1 Belgrave Square, SW1X 8PH
Free entrance.