TRACY CHEVALIER meets IOANA PÂRVULESCU
08/11/2021 @ Romanian Cultural Institute London, 1 Belgrave Square, SW1X 8PH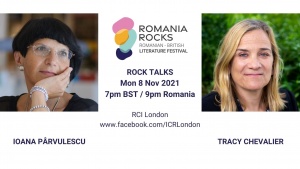 Both much admired for their broad cultural passions and intense, exquisite writing on history and the human condition. Hosted by Rosie Goldsmith.
Tracy Chevalier is the American-British author of 10 novels, including the international bestseller Girl with a Pearl Earring (1999), based on the painting by Vermeer, which was also made into a successful film, and most recently her novel A Single Thread. Tracy grew up in Washington DC and moved to the UK in the 1980s. Known for her meticulous historical research and love of art, Tracy's novels are loved across the world for bringing history, women and art to life. She is a Trustee of the British Library and the Dorset Museum, and a Patron of several charities and literary organisations.
https://www.theguardian.com/artanddesign/2019/feb/16/tracy-chevalier-vermeer-girl-with-pearl-earring-world-tour
https://en.wikipedia.org/wiki/Tracy_Chevalier
https://literature.britishcouncil.org/writer/tracy-chevalier
Ioana Pârvulescu is one of Romania's most popular writers, writing in a wide variety of forms, from historical novels to non-fiction. She has also edited a literary magazine and translates from German and French. She was born in Brasov in 1960 but moved to Bucharest to study (two cities she loves), where she now lives and teaches modern Romanian Literature at Bucharest University. She writes beautifully, playfully and with a great sense of humour about art, history and city life. She was winner of the EU Prize for Literature for her book Life Begins on Friday, published by Istros Books in English and translated by Alastair Ian Blyth, also due to publish her novel The Prophecy. Several of her novels have been translated. She is currently a professor at the Bucharest Faculty of Letters, where she teaches modern Romanian literature.
https://www.euprizeliterature.eu/authors/ioana-pârvulescu
http://istrosbooks.com/products/authors/ioana-parvulescu-63/
https://www.youtube.com/watch?v=Go0uHeddtI0
https://www.youtube.com/watch?v=tvsiRQA4gfg
http://www.icr-london.co.uk/article/rock-talks-a-l-kennedy-meets-ioana-parvulescu.html
Rosie Goldsmith is a former BBC journalist, writer, presenter and director of the European Literature Network. She is an award-winning journalist specializing in arts and foreign affairs. In twenty years at the BBC she travelled the world and presented several flagship programmes. Today she combines journalism with chairing and curating literary events and festivals for leading cultural organisations. Known as a champion of international arts, literature, translation and language learning, she promotes them whenever she can. She is Founder and Director of the European Literature Network www.eurolitnetwork.com and created The Riveter magazine. From 2018-2020 she was Chair of the Judges of the EBRD Literature Prize, honouring authors and translators equally. https://en.wikipedia.org/wiki/Rosie_Goldsmith
https://www.eurolitnetwork.com/rosie-goldsmith/
https://www.ft.com/content/69221cc5-95ae-4d1e-bb91-daff02b69a31
When: Monday, 8 November 2021, 19.00
Where: Romanian Cultural Institute in London, 1 Belgrave Square, SW1X8PH
Entrance is free but we kindly request you to book your ticket on EVENTBRITE.
Kindly book only if you are certain to attend and release the seats.
Please note that seating is unreserved.
*Face coverings highly recommended.