Transylvanian Folk Songs: Karl Lippegaus interviews Lucian Ban & Mat Maneri
25/05/2020 @ RCI London's facebook page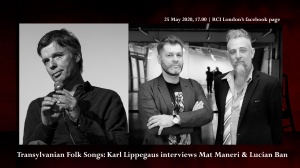 Renowned music journalist and radio presenter Karl Lippegaus will interview pianist Lucian Ban and violist Mat Maneri in a live conversation part of the "I soul ation" Series, on the occasion of the Transylvanian Folk Songs album release.
The collection and preservation of Romanian Folk Music was a lifelong pursuit of the great composer Béla Bartók. The musical re-imagination of his Transylvanian field recordings generated by Lucian Ban, Mat Maneri and John Surman on their latest album is a stunningly endeavour that furthers their composer's pursuit and accentuates its importance.
Lucian Ban - piano
John Surman - baritone & soprano saxophones, bass clarinet
Mat Maneri - viola
Released on 15 May 2020 at Sunnyside Records, the album is already getting rave reviews in Financial Times, The Wire, Jazztrail and more. Recorded live in November 2018 at the Baroque Hall of the Timisoara Museum of Art by Utu Pascu. The music on this album was developed as part of Retracing Bartók project curated and produced by Jazz Updates for Timisoara 2021 European Capital of Culture.
"In 1904, Béla Bartók experienced an epiphany when he heard 18-year-old Lidi Dósa singing songs from her Transylvanian village. Between 1908 and 1917 Bartók would go on to record & transcribe over 3,400 peasant folk songs, describing the completion of his research into Romanian folk music as "my life's goal".The Béla Bartók Field Recordings represent still to this day the biggest collection of Romanian folk songs from Transylvania.
A century later, three outstanding improvisers Mat Maneri, Lucian Ban and John Surman draw fresh inspiration from the music that fired Bartók's imagination, looking again at carols, lamentations, love songs, dowry songs and more." (Steve Lake, album liner notes)
Mat Maneri and Lucian Ban first worked together in 2009 in the "Enesco Re-Imagined" third stream extravaganza that celebrated the music of the great Romanian composer George Enescu. Featuring some of New York's finest downtown musicians – Ralph Alessi, Tony Malaby, John Hebert Gerald Cleaver, Mat Maneri, Albrecht Maurer and Indian tabla legend Badal Roy – the album won multiple Best Album of the Year Awards from the Jazz Journalist Association. Their duet "Transylvanian Concert" has been released by ECM Records in 2013 and has won critical acclaim on both sides of the Atlantic, including several Best Album of 2013 awards. In 2019 Mat Maneri released his DUST quartet album featuring Lucian Ban to critical acclaim and reviews in Wall Street Journal, Jazz Times, Downbeat, and later that same year they premiered their groundbreaking "Oedipe Redux" rewriting of George Enescu opera "Oedipe".
Called "A name to watch" by The Guardian and "one of the most gifted pianists to move to New York" (B. Gallanter, Downtown Music Gallery), Lucian Ban is a Romanian born, NYC based pianist & composer known for his amalgamations of Transylvanian folk with improvisation, for his mining of 20th Century European classical music with jazz, and for his pursue of a modern chamber jazz ideal. His music has been described as "emotionally ravishing" (Nate Chinen, New York Times/WBGO), a "triumph of emotional and musical communication" (All About Jazz), "Unorthodox but mesmerizingly beautiful" (The Guardian) and as holding an "alluring timelessness and strong life-force" (Downbeat Magazine). Lucian Ban was raised in a small village in northwest Transylvania, in "the region where Bartok did his most extensive research and collecting of folk songs" and grew up listening to both traditional and classical music. He studied composition at the Bucharest Music Academy while simultaneously leading his own jazz groups, and notes that his approach to improvisation has been influenced by "the profound musical contributions of Romanian modern classical composers like Aurel Stroe, Anatol Vieru and of course Enesco". Desire to get closer to the source of jazz brought him to the US, and since moving from Romania to New York in 1999 has been leading several projects creating music that reinvents the jazz idiom and collaborating with some of today's most celebrated jazz musicians. His compositions are performed and recorded by other musicians and ensembles and he has released 15 albums under his name for labels such as ECM, Sunnyside, Clean Feed, CIMP, Jazzaway, all the while maintaining a worldwide touring schedule.
Mat Maneri is a 2006 Grammy Nominee for "Best Alternative Album" and over the course of a twenty-five year career, he has defined the voice of the viola and violin in jazz and improvised music. Mat co-founded the legendary Joe Maneri Quartet with his father, drummer Randy Peterson and bassists Ed Schuller and John Lockwood. The quartet's recordings for ECM Records, Hatology and Leo Records were widely acknowledged by critics and fellow musicians as among the most important developments in 20th century improvised music. Maneri's 1999 solo debut on ECM Records marked his emergence as a musician with a singular, uncompromised voice. Since then, the long list of musicians with whom he has worked includes icons such as Cecil Taylor, Paul Bley, Paul Motian and William Parker, as well as influential bandleaders such as Joe Morris, Vijay Iyer, Matthew Shipp, Marilyn Crispell, Joelle Leandre, Kris Davis, Tim Berne and Craig Taborn.
Karl Lippegaus is a renown music journalist and radio presenter based in Koln that has produced shows for WDR, Deutchlandfunk Radio, authored books and many articles and interviewed some of the most important names in jazz for the past five decades. An editor for Fono Forum music magazine, Karl Lippegaus wrote a biography book on John Coltrane and worked on films receiving many awards for his work.
When: Monday 25 May 2020, 17.00
Where: RCI London Facebook page - www.facebook.com/ICRLondon