'Toto and His Sisters' Documentary Premieres at the Open City Documentary Festival
20/06/2015 @ Bertha DocHouse, Curzon Bloomsbury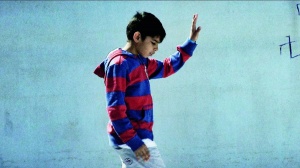 One of the most talked about Romanian documentaries of the last years has its UK premiere at the 2015 edition of the Open City Documentary Festival in London.
The Romanian Cultural Institute in London is pleased to support the screening of 'Toto and His Sisters', Alexander Nanau's touching observational film already awarded at Jihlava International Documentary Film Festival, Leipzig DOK Festival and Zurich Film Festival.

Following his Emmy award-winning documentary 'The World According to Ion B', Alexander Nanau tells the astonishing family story of Toto (10), and his sisters, Ana (17) and Andreea (15). During their mother's imprisonment, Toto passionately learns dancing, reading and writing, while his sisters try to keep the family together in a world that has long forgotten how the innocence of childhood should look like. What happens when we discover that we can get more from life than our parents have to offer?
Romania's participation at the Open City Docs began in 2011 with the screening of seven documentaries and with acclaimed Romanian director Cristi Puiu as the President of the Jury. In the past five years, our collaboration with UCL's Open City Docs brought to the London audiences many celebrated documentaries and filmmakers.
When: Saturday 20 June 2015, 20:15
Where: Bertha DocHouse, Curzon Bloomsbury, The Brunswick, London WC1N 1AW
Tickets: £9/£7 conc from http://dochouse.org/cinema/screenings/2015/05/11/open-city-toto-and-his-sisters
TRAILER - TOTO AND HIS SISTERS by Alexander Nanau from Cinema Screener on Vimeo.