Tokens of Redemption
28/03 - 12/06/2014 @ Hall Place and Gardens & Whitstable Museum, Kent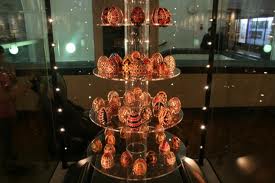 In anticipation of Easter, we invite you to enjoy the century-old craftsmanship of egg decoration, which transforms the humble, perishable object into the vivid symbol of sacrifice and rebirth.
100 skilfully painted eggs from the Horniman Museum collection, made by the scions of the same artisans who built and decorated the famous painted monasteries of Bukovina, north-east of Romania, are on display at Hall Place and Gardens from 28 March and Whitstable Museum from 3 April.
Learn more about the art of eggs decoration, the meaning of their vivid colours and ingenious patterns, along with the festive function they perform here!
When: 28 March - 12 June (Hall Place and Gardens) & 3 April - 8 June (Whitstable Museum)
Where: Hall Place and Gardens, Bourne Road Bexley, Kent DA5 1PQ & Whitstable Museum, 5A Oxford St, Whitstable, Kent CT5 1DB