Tinereţe şi impetuozitate în Seria românească de la St James's Church Piccadilly
02/11/2018 @ St James's Church Piccadilly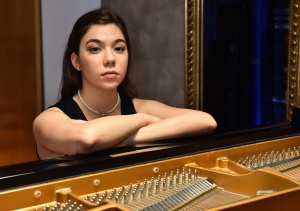 Budding young pianist Kira Frolu concludes the 2018 Romanian Series at St James's Church Piccadilly with a concert featuring evergreens of the piano repertoire by Scarlatti, Busoni and Chopin and lesser known works by Romanian composers Constantin Silvestri and George Enescu. Newly enrolled at the prestigious Royal Academy of Music where she will study with prof. William Fong, Kira promises a recital to remember. Do join us!
Programme:
G. Enescu - Toccata from Suite No. 2, op. 10
C. Silvestri - "Cântece de pustiu - Studii de nuanţe" / "Songs of Emptiness – Studies of Nuances"
D. Scarlatti - Sonatas k. 175 and k. 474
F. Busoni - Chamber Fantasy on Bizet's "Carmen"
F. Chopin -Sonata no. 2 in b flat minor, op. 35
Kira Frolu is the prizewinner of several international competitions including "Chords of Khortitsa" and "Vladimir Krainev" (Ukraine),"Maria Tjarri"(Cyprus), "Pianale" (Germany), "Jeunesses Musicales" (Romania), "Young Pianists of the North" (UK) and others. She started her musical training in Bucharest and continued in London, at the Purcell School for Young Musicians (2016-2018) and, starting September this year, at the Royal Academy of Music. Kira has already given solo recitals in many prestigious halls in London such as Wigmore Hall or Milton Court, and performed with Hertfordshire Schools Symphony Orchestra and Toruń Symphony Orchestra. Apart from studying and performing, she has also taken part in numerous piano masterclasses and academies, such as "Pianale"(Germany), "Paderewski Academy" (Poland), "Suolahti Music Festival" (Finland), "Arthur Rubinstein masterclass" (Marbella) and others. In the future, Kira hopes to become a renowned solo and chamber musician, while getting involved in education and helping new generations pursue their musical careers.
When: Friday, 2 November at 13:10
Where: St. James's Church, Piccadilly
This lunchtime concert is free and no ticket or booking is required.