Thundering Harmonies
01/05/2014 @ Romanian Cultural Institute in London, SW1X8PH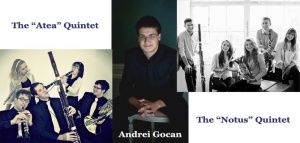 The season of premieres at the popular Enescu Concerts Series continues as our busy chamber hall is taken over by no less than ten wind instruments. Rarely played but widely admired, Enescu's 'Dixtuor', composed for two flutes, two oboes, two clarinets, two horns and two bassoons, will resound for the first time at 1 Belgrave Square thanks to the daring initiative of the young Romanian conductor and alumnus of the prestigious Royal Academy of Music, Andrei Gocan. Under his baton, two leading British wind ensembles, the Atea Quintet and the Notus Quintet, will join forces to tackle this difficult but hugely enjoyable Enescu piece. The programme is complemented by Ludwig van Beethoven's 'Octet' Op.103 in E-flat major and Wolfgang Amadeus Mozart's 'Serenade' K. 388 in C minor.
Andrei Gocan has been described by Musical Opinion as an "outstanding talent". He has conducted Transilvania, Bacău, Brașov, and Oradea State Philharmonic orchestras in Romania. Andrei has graduated with Distinction the Conducting postgraduate programme at the Royal Academy of Music under Colin Metters, and has participated in masterclasses with Leif Segerstam, Kenneth Kiesler, and Mark Shanahan. He has worked as assistant-conductor for Semyon Bychkov, Thierry Fischer and Pablo Heras-Casado. Andrei is equally keen on symphonic and operatic repertoire, with a special interest in Mozart and Richard Strauss.
The Notus Quintet are:
Charlotte Ashton – flute
Eleanor Tinlin – oboe
Jordan Black – clarinet
Carys Evans – horn
Jonathan Davies – bassoon
Notus Winds comprises five London-based musicians each holding full scholarships to the Royal Academy of Music. Twice finalists of the Royal Overseas League Chamber Music Competition in 2013 and 2014, they were the winners of the Elias Fawcett Award for Outstanding Chamber Music as a result of their performance throughout the competition. They also won the Nicholas Blake Ensemble prize at the Royal Academy, and were successful in competing to go to São Paulo, Brazil, for the Festival de Inverno in July. Most recently, they were the winners of the Royal Academy's most prestigious competition, the Patrons Award, and now look forward to performing at the Wigmore Hall in June 2014.
The Atea Quintet are:
Alena Lugovkina – flute
Suzie Thorn – oboe
Anna Hashimoto – clarinet
Chris Beagles – horn
Freddie Scadding – bassoon
Based in London, the Atea Wind Quintet is comprised of five players who are some of the top young freelance musicians around today. Formed in 2009, the Atea Wind Quintet has a wide range of repertoire that is perfect for both on and off the concert platform. Since 2012, the group has been the Associate Ensemble in Residence at the Birmingham Conservatoire.
When: Thu 1 May 2014, 7pm
Where: Romanian Cultural Institute, 1 Belgrave Square, SW1X 8PH
Admission is free, but places are limited. Early booking is well recommended.
Please reserve your seats at T: 020 7752 0134, E: office@icr-london.co.uk
The seats are allocated on a first come, first served basis.