Theatre performance: "Old Clown Wanted" by Matei Vișniec
15/07/2020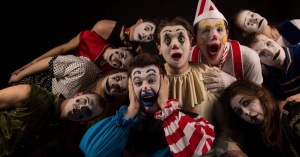 Three elderly men arriving with suitcases in a windowless room, answering an advertisement for a "Small Part for an Old Clown". Three out-of-fashion clowns who bump into one another at the audition, hoping they will be chosen as it is clearly their last chance. When no one arrives to interview them, they start performing their old routines.
"Old Clown Wanted" is a curious but compelling dark comedy with its roots buried in the tradition of ground-breaking existentialist playwrights Beckett, Jean Genet and Eugene Ionescu (to name a few). It resonates boldly with its kinship to "Godot", especially in the thrust of its so-called plot in which three forlorn but plucky fellows find solace in each other while futilely waiting around for the answers to their questions. (Simon Saltzman, theatrescene.net)
Celebrated Romanian playwright Matei Vișniec's "Old Clown Wanted" has been translated into more than 30 languages and staged worldwide, delighting spectators with its absurd sense of humour while tackling the themes of ageing and one's usefulness in society.
The version of the play, which the Romanian Cultural Institute in London is thrilled to present in a special online programme including an introduction by Matei Vișniec, specially recorded for this occasion, and a Q&A with director Eusebiu-Mihail Tudoroiu and actor Robert Bogdanov-Schein, is produced by the "Void Theatre Company" in collaboration with "Ementior Dance Company", in an adaptation of the original script mixing elements of theatre, dance, physical theatre and circus. It premiered in March 2019 at the Academy of Music and Theatre Arts in Falmouth and was invited to the prestigious Sibiu International Theatre Festival 2019.
Exploring the transition between the civil face of a performer and his on-stage form with the costume and the make-up and using integrated elements of choreography within theatre and circus, the show guides the audience through comedy, mystery, tension, power, playfulness and rituals and opens up surprises at each stage.
Old Clown Wanted
Written by: Matei Vișniec
Directed by: Eusebiu-Mihail Tudoroiu
Choreography by: Ementior Dance Company
Cast: Robert Bogdanov-Schein (Filippo), Eusebiu-Mihail Tudoroiu (Nicollo), Jack Arthur (Peppino)
Circus performers: Andrea Rios Ruiz, Andrea Isaksen, Ben Mandeville, Brandon Holloway, Carla Montero, Laura Cutlan, Nathan Tabberer, Teodor Tincu
Costume design: Cosmin Stancu
Make-up design: Andrea (Andy) Isaksen & Jaz Rifat
Light design: Ethan Kent
Sound design: Ryan Lillie
Stage manager: Elenie Hajibey & Ned Siuipys
Producers: Robert Bogdanov-Schein, Eusebiu-Mihail Tudoroiu
Graphic design: Melissa Ivana
Matei Vişniec is a Paris-based Romanian playwright, whose multi-award-winning work has been staged in over 30 countries from Japan to the USA and has been translated into more than 25 languages. Vişniec, who lived in London as a BBC journalist in the eighties, is perhaps best known in the UK for the acclaimed Young Vic production of "The Body of a Woman as a Battlefield in the Bosnian War".
Eusebiu-Mihail Tudoroiu is a Romanian young actor, singer, theatre director and producer. He started working in theatre quite early, in a professional company in Romania, playing in several performances in theatre festivals around Europe. He moved to the UK in 2017 performing in film, theatre and musical theatre.
Robert Bogdanov-Schein is a young actor and producer from Romania. He started his career at the Timișoara German Theatre youth group and graduated, together with Eusebiu-Mihail Tudoroiu, from the Academy of Music and Theatre Arts in Falmouth.
When: Wednesday 15 July 2020 at 19.00. The performance will be available to watch until 15 August 2020.
Where: online via RCI London's Facebook page and Youtube channel.