The Universal Day of the Romanian Blouse: Picnic in Hyde Park
23/06/2019 @ Romanian Cultural Institute, 1 Belgrave Square, SW1X8PH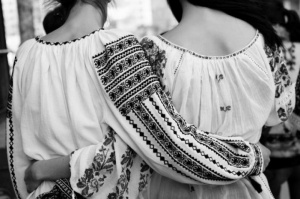 From British-born Queen Marie of Romania to painter Henri Matisse or fashion designer Yves Saint-Laurent, numerous celebrities across the globe have fallen for the charms of the Romanian blouse. With its vivid colours and intricate adornments, this traditional garment (in Romanian "IE") is much more than a simple sartorial marvel or a historical relic; it is a language in itself, and one that has entered the mainstream of international couture.

Every year, on 24 June, The Universal Day of the Romanian Blouse is celebrated worldwide. To mark the occasion in the British capital, we invite you to wear your Romanian blouse and join us for a picnic in Hyde Park, where tradition will - weather permitting - blend in with the London summer. We will be meeting you at The Cockpit, opposite the Lido Restaurant.

After the picnic, the Brâncuși Gallery at 1 Belgrave Square will open its doors to an exhibition of vintage Romanian blouses from the collection of violist Marie-Jeanne Mai-Antal, comprising no fewer than 30 exquisite garments. The preview starts at 6:30pm.
The event is organised in collaboration with the Romanian Embassy and Romanian Women in the UK.
N.B. food and drinks are not provided, please bring your own.
When & Where: Sunday 23 June 2019
Bring Your Own Picnic in Hyde Park (The Cockpit) between 16.00-18.00
Exhibition opening between 18:30 -20:30 at The Romanian Cultural Institute, 1 Belgrave Square, London SW1X 8PH
Free entry. Please confirm your attendance on EVENTBRITE.