The Tragicomic Condition: an Evening with Matei Vişniec
10/12/2015 @ Romanian Cultural Institute London, 1 Belgrave Square, SW1X 8PH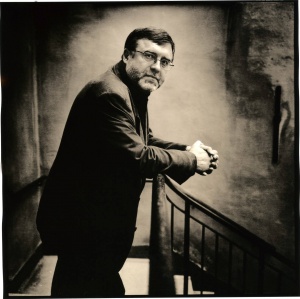 Join us for the launch of Matei Vişniec's 'How to Explain the History of Communism to Mental Patients and Other Plays', the first anthology in English of the Romanian theatre's most prolific and revered contemporary playwright.
'How to Explain the History of Communism to Mental Patients and Other Plays', a collection of Vișniec's best work of the last decades, is published by Seagull Books in the prestigious 'In Performance' series, which showcases key voices in international theatre.
The launching event will feature a conversation on playwriting, cultural memory and European theatre on the English stage. Along with the famous playwright, the panel, chaired by Faynia Williams, artistic director of Brighton Theatre, include theatre critic Ian Herbert and translator and academic Jozefina Komporaly, the anthology's editor.
BAFTA-winning actress Anamaria Marinca will read extracts from Vişniec's play 'Decomposed Theatre' (translation by Nick Awde and Jozefina Komporaly), and Rouge 28 Theatre company will present an abridged version of their acclaimed production of 'The Story of the Panda Bears' (Edinburgh Fringe Festival 2005, Voilà Festival 2014) – directed by Paul Piris and starring George Xander and Géraldine Cottalorda (translation by Claire Doucet and Ian Whitfield).
Matei VIŞNIEC is a Romanian-born playwright, novelist and poet based in Paris, one of the most trenchant voices in Europe, condemning the atrocities of totalitarianism as well as the excesses of consumer culture. Between August 1988 and October 1989 he lived in London, where he worked for the BBC. After settling down in France in 1987, he has been writing mostly in French, his dramas being produced from Japan to the United States, and Brazil to Turkey. In his native Romania Vișniec has achieved quasi-canonical status since the fall of communism, his work having been banned for political reasons prior to 1989. In 2009, the French Society of Dramatic Authors and Composers awarded him the European Prize for lifetime achievement. In Romania, he has been awarded the Dramaturgy Prize of the Union of Writers on numerous occasions, the UNITER Prize, and the Romanian Academy's Prize for Dramaturgy. This first anthology of his dramatic work in English collects seven of his most outspoken plays, highlighting a platform for cultural resistance and a bold critique of politics and society.
Ian HERBERT is an eminent British theatre critic and publisher, with a strong expertise in continental dramatic traditions. He is a past president of the International Association of Theatre Critics (IATC), member of the British Critics' Circle and founding editor of "Theatre Record". He writes for "The Stage" magazine.
Jozefina KOMPORALY is a linguist and academic, Research Fellow in the Centre for Adaptations at the De Montfort University in Leicester. She champions the literatures of small European nations, and is editor and co-translator of "How to Explain the History of Communism to Mental Patients and Other Plays". Her academic publications include "Staging Motherhood: British Women Playwrights. 1956 to the Present" (Palgrave, 2006).
Anamaria MARINCA is a Romanian-born actress with a stellar international career. She made her screen debut with the Channel 4 film "Sex Traffic", for which she won the British Academy Television Award for Best Actress. She is also known for her performance in the 2007 Palme d'Or winning film by Cristian Mungiu, "4 Months, 3 Weeks and 2 Days", earning multiple awards for her performance.
ROUGE 28 is a UK-based theatre company, specializing in contemporary European drama. The company, including performers George Xander and Géraldine Cottalorda and led by Paul Piris, presented Matei Visniec's The Story of the Panda Bears to rave reviews at the Edinburgh Festival in 2005, and revived it for the Voila! Festival of French drama at the Cockpit Theatre in London in 2014.
Faynia WILLIAMS is an award-winning British theatre and opera director, film maker and BBC producer. Together with Richard Crane, she is artistic director of radical theatre company, Brighton Theatre. She was the first British theatre maker to stage Matei Visniec's work. Her recent projects include "Vlad the Impaler" for Brighton Festival, nominated for the Broadway Baby Bobby Award for outstanding production in 2015.
When: 10 December 2015, 7pm
Where: Romanian Cultural Institute London, 1 Belgrave Square, SW1X 8PH
Free entry but please reserve your seats on Eventbrite.