The Supremos of Moldovan Beat at London Jazz Festival
17/11/2016 @ The Forge, 3-7 Delancey Street, London NW1 7NL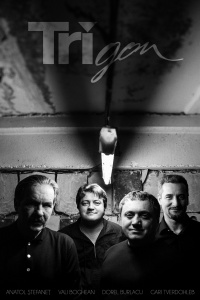 Fusing Romanian folk music and sophisticated, grooving scores, Moldovan band Trigon's sparky tunes appeal to both jazz aficionados and music lovers in general. The band was created in 1992 and is led by Anatol Ştefăneț, whose earthy vibe, perfectly complementing the dexterous energy of a consummate ensemble, creates a kaleidoscope of acoustic textures, witty, inventive, ironic and easy-going.
Trigon Jazz Group are:
Anatol Ştefăneţ - viola
Dorel Burlacu - keyboard, piano, harmonica
Gari Tverdohleb - xylophone, drums, percussion
Vali Boghean - kaval, trumpet, saxophone, tilinca, vocal
Don't miss their much awaited return to the UK for the EFG London Jazz Festival, with a gig at Camden's award winning club The Forge!
The concert is organised by Kazum Musical Agency and The Romanian Cultural Institute.
When: Thu 17 November, 8pm
Where: The Forge, 3-7 Delancey Street, London NW1 7NL
Tickets: £ 15 seated; £12 standing – Book HERE