The South Soundtracks the Northern Lights
12/04/2014 @ Harpa Concert Hall, Austurbakki 2, 101 Reykjavík, Iceland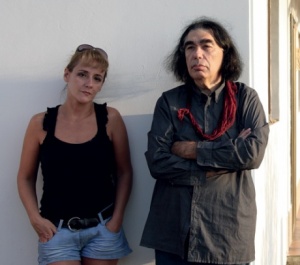 Iceland Symphony Orchestra will premier several works by ground-breaking Romanian spectralist composers Iancu Dumitrescu and Ana-Maria Avram at the Tectonics Music Festival, which takes place April 10-12 at the National Opera HARPA in Reykjavik. As expected, Tectonics will burst of awesome experiments and daring performers who will chart unknown musical territories as strangely beautiful as the volcanic spines of the Icelandic mountains.
Tectonics is curated by Ilan Volkov, chief conductor and musical director of Iceland Symphony Orchestra, and is also presented in Scotland, Israel and Australia. Beside the famous Romanian duo, the programme features important names in contemporary experimental music such as Cathy Milliken, Alvin Lucier, Liz Harris and Angela Rawlings.
More about the Tectonics Music Festival HERE.
Iancu Dumitrescu is revered as one of the most original contemporary composers and a leading figure of the international movement of experimental music. A disciple of legendary conductor and philosopher Sergiu Celibidache, Dumitrescu founded the Hyperion Ensemble in 1976 and has started promoting a new approach to music, grounded in the spectral analysis and the phenomenology of music. His compositions, although difficult and strange, have gained wide recognition and are performed all over the world.
Ana-Maria Avram is a composer, pianist and conductor. She studied composition at the National University of Music in Bucharest and musical aesthetics at Sorbonne University. She has been a member of the Hyperion Ensemble since 1988. Her music, also defined as spectral, aims at the abstraction of archetypal sound by a synthesis of electroacoustic and instrumental sources. Ana-Maria Avram has composed around 130 works, including chamber music, music for orchestra, electronic music and computer-assisted music.