The Soundtrack of Love
14/02/2016 @ Kings Place, 90 York Way, London N1 9AG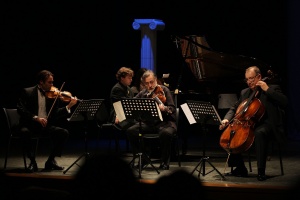 On Valentine's Day, as a musical tribute to the highest infatuation of them all, violinist and chamber circuit darling Horia Văcărescu joins forces with cellist Anton Niculescu, former principal cellist of La Scala, prodigy pianist Andrei Licareţ, and world-acclaimed viola player Vladimir Mendelssohn for a passionate and evocative evening of Romantic repertoire. Double bass player Stacey Watton completes the consummate ensemble for Schubert's ever-popular 'Trout' Quintet.
This concert is part of the prestigious series run by the London Chamber Music Society at Kings Place and is organised in partnership with the Romanian Cultural Institute in London.
Horia Văcărescu will be playing on a Vincenzo Ruggeri violin made in Cremona in 1720, kindly made available through the Dorothy Croft Trust for Young Musicians.
Programme:
Gustav Mahler: Piano Quartet, movement in A minor
Johannes Brahms: Piano Quartet in C minor, Op. 60
Franz Schubert: Quintet for piano and strings, 'The Trout', D. 667
Born to a musical family in Bucharest, Horia Văcărescu took his first violin lesson at the age of three. He made his first public appearance when only six years old and a few years later he started his studies with Paul Ratz, a prominent violinist and concertmaster, who would become his mentor. He graduated the National Music University of Bucharest and later moved to London where he worked for a while with Romanian violinist Eugene Sarbu before receiving a scholarship to study with Levon Chilingirian at the Royal College of Music. Horia is currently enjoying an international career as soloist, recitalist and chamber musician. He has established a good reputation in his adoptive UK as well as in his native Romania, where he plays regularly at some of the most important venues. Concert engagements have taken him to three continents, from Europe to the USA and the Far East. He has performed with numerous orchestras and his repertoire extends from the classics to contemporary composers.
Anton Niculescu was born in Bucharest in a family of musicians. He had his debut at only 12 and, two years later, he was playing the Cello Concerto by Eduard Lalo with the Iași Philharmonic Orchestra. He won numerous awards and was invited to play in the most prestigious musical halls in Europe, such as Teatro alla Scala in Milan, Teatro Comunale in Florence or Teatro Bellini in Catania. Since 1997, Anton Niculescu has been a member of the Philharmonic Academy in Bologna. The cellist is also one of the founders of 'Euterpe' Foundation for young Romanian talents.
Pianist Andrei Licareț was born in Bucharest and made his orchestral debut at the age of eleven. Since then he has given concerts throughout Europe and the United States, winning prizes in several competitions, among them Jeunesse Musicales (1st Prize), Bucharest Yamaha (1st Prize), The Lory Wallfish Prize, 2nd Prize in Tel-Hai Competition and 2nd Prize in Shreveport Concerto Competition. His teachers have included Gabriela Enăşescu, Viniciu Moroianu, Dana Borşan, Dan Dediu (with whom he studied composition) and Jacques Rouvier. He has been a regular student of Dmitry Bashkirov's Mozarteum master-classes in Salzburg and also participated in the Steans Institute Program for Young Musicians at Ravinia Festival.
Vladimir Mendelssohn was born into a musical family in Romania and studied viola and composition in Bucharest. He is very much in demand as a player of chamber music and regularly performs at numerous music festivals with the world's top musicians. He has also given solo concerts and made many recordings for different record labels. Mendelssohn is a prolific composer, having written works for solo instruments, mixed choir and symphony and chamber orchestra. He has also written music for the ballet, stage and screen. At present he is professor of chamber music at the Paris Conservatoire and also teaches in The Hague, Essen and Bologna. He gives masterclasses around the world. Since the early 1980s he has regularly appeared at the Kuhmo Chamber Music Festival and has been its Artistic Director since autumn 2005.
"A versatile and accomplished artist" was how Classical Music Magazine described Stacey Watton many years ago and the Scottish press heralded him as a "a wizard" of the double bass. The musician is Principal Double Bass with the London Chamber Orchestra, the London Mozart Players, the Orchestra of the Swan, Primavera Chamber Orchestra, Chamber Domaine, the English Soloist's Ensemble, the National Symphony and the Johann Strauss Gala Orchestras. He is also a Principal Bass for Sir Andrew Lloyd Webber. Stacey has also appeared as a guest principal with larger groups such as the Royal Concertgebouw, the Royal and London Philharmonics, the Hallé, the BBC Concert Orchestra, the Royal Scottish National Orchestra and the BBC National Orchestra of Wales. He is Principal Bass, Principal Conductor and Founder of the Esprit Ensemble LTD.
When: Sun, 14 February, 6:30pm
Where: Hall One, Kings Place, 90 York Way, London N1 9AG
Tickets: £14.50 – 29.50. You can book tickets HERE