The Song That Never Ends: Constantin Silvestri Celebration
06/07/2011 @ ICR London, 1 Belgrave Square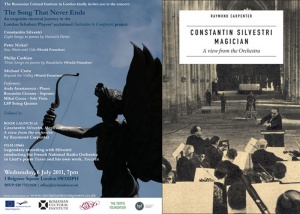 The Song That Never Ends is a special evening dedicated to Romanian composer and conductor Constantin Silvestri (1913-1969). The event is part of Invitation to Composers, an unique, two-year project, co-funded by the European Cultural Fund, that encourages modern-day composers to write new works, inspired by celebrated musical ideas of the 18th, 19th and 20th centuries and enhanced by cultural elements from the composers' own indigenous heritage. The Romanian Cultural Institute is proud to support this ground-breaking international initiative based in the United Kingdom, France and Romania. This evening's event will take place in the presence of composers Philip Cashian, Peter Nickol and Michael Cretu.
Full details about the project and the biographies of the composers and musicians at: www.invitationtocomposers.co.uk.
Programme:
Constantin Silvestri: Eight Songs to poems by Heinrich Heine (UK Première)
Peter Nickol: Sea, Shore and Tide: The Grand Exciting Cause of Tides, Lincolnshire Shores (at Mablethorpe), The Sands of Dee, Forever (World Première)
Philip Cashian: Three Beaudelaire Songs: La Musique, Les Hiboux, La Cloche fêlée (World Première)
Michael Cretu: Beyond the Valley (World Première)
INTERVAL
Book launch: Constantin Silvestri, Magician. A View from the Orchestra. by Raymond Carpenter (Romanian Musical Adventure Publishing House). Presented by Anda Anastasescu (President, Constantin Silvestri International Foundation and Director, Romanian Musical Adventure)
Brian Johnston (violinist in the Bournemouth Symphony Orchestra during Silvestri's tenure)
John Gritten (Silvestri's biographer).
&
Film screening: First UK showing of an unique film with Constantin Silvestri conducting the French National Radio Orchestra (1966) in Liszt's poem Tasso and his own Prelude and Fugue (Toccata).
Performers:
Anda Anastasescu: Piano
Ruxandra Cioranu: Soprano
Mihai Cocea: Solo Viola
London Schubert Players String Quintet:
Alicja Smietana: Violin 1
Anca Campanie: Violin 2
Daisy Spiers: Viola
Nikolay Ginov: Cello
Michael Cretu: Double Bass
Invitation to composers is curated by Anda Anastasescu, concert pianist, founder and artistic director of the London Schubert Players, head of the Romanian Musical Adventure London festival and record company and president of the Constantin Silvestri International Foundation. Awarded the decoration Commander of the Order of Cultural Merit by the President of Romania, she was also one of the four women selected in the Arts in Great Britain to receive the 2003 European Women of Achievement Certificate "in recognition of an outstanding contribution to pan-European understanding and progress that provides an inspiration to others". Born and educated in Bucharest, Paris and London, she has performed in prestigious festivals and concert halls on five continents following her winning of the 1974 Debussy International Piano Competition in St. Germain-en-Laye (Paris). She attended Sergiu Celibidache's legendary conducting master-classes and in 1989 she formed the London Schubert Players Chamber Orchestra as the orchestra-in-residence of the French Institute in London. Anda Anastasescu has given many UK first performances of works by Constantin Silvestri, George Enescu, Dinu Lipatti and other Romanian composers. In 2005 – 2006 she created in London A Romanian Musical Adventure, the first UK festival of Romanian composers.
When: Wednesday, 6 July 2011, 7pm;
Where: Romanian Cultural Institute, London
Admission is free but seats are limited. Please reserve your seats at T: 020 7752 0134, E: office@icr-london.co.uk.