The Scores of Ascent
05/05/2014 @ St Martin-in-the-Fields, Trafalgar Square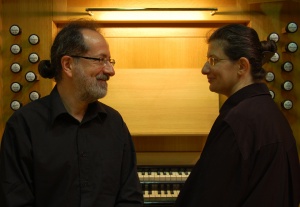 Our popular series at St Martin-in-the-Fields continues with a rare musical treat: a recital for pipe organ at four hands. Romania's most famous organist duo, Dan Racoveanu and Fernanda Romilă, are filling the solemn interiors of Trafalgar Square's musical temple with the uplifting tones of this extraordinary instrument.
Programme:
Adolf Friedrich Hesse – 'Fantasie' in D minor Op. 87
Christian Gottlob Höpner – Choral Prelude Op. 19 No. 1 - 'Now all the woods are sleeping'
Jeremias Nikolaus Wilhelm Kühne – 'Fantasie' in F minor Op. 48
Christian Gottlob Höpner – Choral Prelude Op. 19 No. 3 – 'O God, what manifold distress'
Felix Mendelssohn – 'A Midsummer Night's Dream', Overture Op. 21
After graduating in Organ and Orchestra Conducting at the National University of Music in Bucharest, Dan Racoveanu won a postgraduate scholarship at the Sibelius Academy in Helsinki in 1994. He participated in masterclasses of renowned Academies, studying with famous musicians like Michael Rădulescu, Harald Vogel, Christoph Krummacher, Jesper Christensen, Ludger Lohmann, and Helmuth Rilling. In 1992 he set up the 'Continuo' Baroque Ensemble, specialised in baroque performance, and in 1998 the musician founded the Bach Society in Romania, which collaborates with the Neue Bachgesellschaft – Leipzig and promotes Bach's works played on period instruments. In 2005 he received the Doctor's Degree Summa Cum Laudae for the thesis 'Basso Continuo – a Rediscovered Performance Practice'. Dan Racoveanu works as a lecturer at the National University of Music in Bucharest where he teaches organ, basso continuo and chamber music.
Fernanda Romilă graduated both in Composition and Organ at the National University of Music. Winner of a DAAD scholarship, she continued her studies of harpsichord in Bremen, at the Hochschule fur Kunste and at the Conservatoire Royal de Bruxelles with Frederick Haas. Being interested in the interpretation of early music, she attended masterclasses with Pierre Hantai, Jordi Savall, Nicholas Parle, Marten Root, and Bob van Asperen. Fernanda has performed with many ensembles – Continuo (Dan Racoveanu), Codex (Szilard Chereji), Le Chardon (Hajo Wienroth), Orfeo (Jean-Pierre Menuge), and gave concerts all over Europe. She recorded for the Bremen and Romanian Broadcast Companies and made the first recording of sonatas by J. P. Vandenbosch in Belgium. She got her PhD in music with the thesis entitled 'The Literature for Harpsichord with Ad Libitum Accompaniment in the XVIIIth Century'. Fernanda Romilă is also a lecturer at the 'Spiru Haret' University in Bucharest.
When: Monday 5 May, 1pm
Where: St Martin-in-the-Fields, Trafalgar Square, London
This lunchtime concert is free and no tickets are required.