The Romeo and Juliet of Chamber Music Open the Enescu Concerts' New Season
02/10/2014 @ The Romanian Cultural Institute, 1 Belgrave Square, London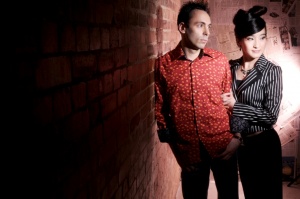 For the opening of the 2014/15 season of our longest running musical series, the passionate duo Horia Văcărescu and Chiho Tsunakawa, whose artistry and finesse have graced prestigious stages in Britain and abroad, will execute a formidable programme of virtuosity which celebrates the violin and its repertoire.
Programme:
George Frideric Handel – 'Largo' (from the opera 'Serse'), arr. Kreisler
Ludwig van Beethoven – 'Sonata' no. 4 in A minor op. 23
Igor Stravinsky – 'Suite Italienne', arr. Duskin
Eugène Ysaÿe – 'Sonata' no. 3 – 'Ballade' (dedicated to George Enescu)
George Enescu – 'Ballade'
Fritz Kreisler – 'Tambourin Chinois' ('Chinese Drum') & 'Caprice Viennois'
Brahms – 'Hungarian Dance' no. 4, arr. Joachim
Niccolò Paganini – 'Le Streghe' ('Witches Dance')
The Văcărescu-Tsunakawa Duo was formed as the two musicians were finishing their studies at the Royal College of Music in London. The pair has since had many successes and has built a solid reputation both in the UK and internationally. The duo regularly appears on important stages in Britain, Europe and Japan.
A refreshing emergence to the classical music scene, Horia Văcărescu's style is characterised by an unencumbered approach to music combined with an intrinsic mastery of the instrument. Born in Romania to a musical family, Horia started playing the violin at the age of three. When he was six he made his first public appearance and at fifteen he performed for the first time in the company of a symphony orchestra. He studied both at the National Music University in Bucharest and the Royal College of Music in London. Presently, Horia enjoys an international career as a soloist, recitalist and chamber musician. Concert engagements have taken him to three continents, from Europe to the USA and the Far East and he has been the guest at various music festivals in England, France, Greece, Germany, Romania, Switzerland and Wales.
A remarkable young pianist, Chiho Tsunakawa was born in Japan and began learning piano at the age of three. When she was only twelve, the pianist came to London to study as a pupil of Noretta Conci-Leech. Chiho Tsunakawa then became a student of Tessa Nicholson at the Junior Department of the Royal Academy of Music and the Purcell School of Music. She received a scholarship to study at the prestigious Royal Academy of Music under Tessa Nicholson and Rustem Hayroudinoff, gaining both undergraduate and postgraduate degrees. Later, the pianist has gained her Master's degree at the Royal College of Music, under the guidance of Gordon Fergus-Thompson. The artist has given solo performances on NHK Radio in Japan and her Schubert's Trout Quintet performance at the Wigmore Hall was also broadcasted on radio in London.
When: Thursday, 2 October 2014, 7pm
Where: Romanian Cultural Institute, 1 Belgrave Square, London SW1X 8PH
Admission is free, but places are limited. Early booking is well recommended. Seats are allocated on a first come first served basis.
Please reserve your seats at T: 020 7752 0134, E: office@icr-london.co.uk.